Looking back on the Kicking Horse Coffee story: From a backyard shack to a $215 million deal
A look back at the Kootenay Business June 1998 cover story about Kicking Horse Coffee founders Elana Rosenfeld and Leo Johnson.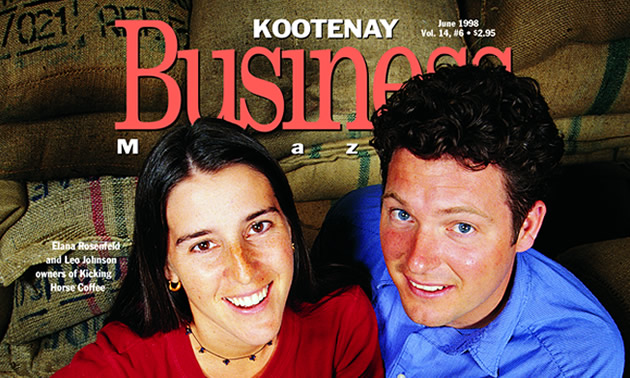 Last week when news broke that Invermere's Kicking Horse Coffee had sold in a $215 million deal to Italy's Lavazza Group, it reminded us of the company's humble beginnings back in the late 1990's.
Here is the cover story we originally ran in Kootenay Business in June 1998 about Kicking Horse Coffee founders Elana Rosenfeld and Leo Johnson.
Our favourite quote from the story, "Kicking Horse Coffee's headquarters is a quaint little shack cradled in the Columbia Valley where the smell of fresh-roasted coffee wafts out on pine-scented breezes." From these simple beginnings CEO Elana Rosenfeld, who retained 20% ownership or a stake worth some $42 million, continues to guide the growth of this amazing Kootenay success story.
We are pleased to re-publish the cover story in its entirety:
From around the world to the Columbia Valley—an Invermere company turns exotic beans into business
They come from the rain-drenched jungles of Costa Rica and the sun-baked terrain of Ethiopia. They make their way across the grassy plains of Kenya and through the thick foliage of the Amazon. Their destination: Invermere, BC. On a stunning little piece of heaven just outside of town, Elana Rosenfeld and Leo Johnson roast beans from around the world to create a unique Kootenay product that is gaining international recognition. Kicking Horse Coffee's headquarters is a quaint little shack cradled in the Columbia Valley where the smell of fresh-roasted coffee wafts out on pine-scented breezes. Green coffee beans in 150 lb burlap sacks from a bean broker in California are stacked against the walls, Kicking Horse packages neatly line the shelves and the hum of the roaster reverberates through the sun-filled room. It's a life one could easily get used to.
The idea to roast coffee in Invermere came to the couple several years ago when they owned the Blue Dog Café.
"You couldn't get good coffee here," said Rosenfeld. "If you owned a restaurant and you wanted good coffee, you had to order it from Calgary or Vancouver." When the couple sold the Blue Dog in 1995, they travelled the world and researched coffee. They tasted blends in Toronto, Vancouver, Montreal, New York, India and Indonesia. They read up on different techniques and studied the art of roasting.
"Each bean from each country has a distinct characteristic," said Johnson. "We blend the beans so they compliment each other to maximize the flavor of the coffee. Straight coffee isn't always complete in terms of flavor." The couple said the process took a lot of experimenting with different proportions, looking at what other roasters do, and indulging in a cup of java wherever they go to compare the taste.
When the couple returned to Invermere in 1996, Kicking Horse was born and they began to market their product.
"We spent the first six months driving up and down the valley," said Rosenfeld. "We didn't make a sale for the first three months. But we knew it would take a good two to five years to build this business, and the last year has been fantastic—we get calls every day." Some of Kicking Horse's more familiar clients are The Good Nature Store in Invermere, Max's Place in Cranbrook, Snowdrift and Loon Lake in Kimberley, the prestigious River Café in Calgary and more. While Kicking Horse coffee can be found in health-food stores, cafes and restaurants all over the Kootenays, their blends have made their way as far as Germany and New Zealand through the mail-order portion of the business. But the couple's sights are set on Canadian shelves.
"We have customers in Calgary, on Vancouver Island, in Vancouver and we're now moving into Manitoba and Ontario," said Rosenfeld. The company just landed a major contract with Thrifty Foods of Vancouver Island.
"This will really change the face of the company," said Rosenfeld. "They have 45 per cent of the market share on the Island and they're looking to recapture the coffee market. They're really into BC products and Canadian products; they look for companies like us, which is fantastic and they make it easy for us to do business with them."
Kicking Horse was also recently named the number one roaster in B.C. by Coffee Experts, a group of java aficionados who publish information about the industry. Despite the fact Kicking Horse coffee can be found in mugs all over, Rosenfeld and Johnson are true to their roots.
"Invermere has been great to us," said Rosenfeld. "Local support has been phenomenal. Some people say Invermere is a funny place to have a small manufacturing business, but really Invermere is a selling point. People like unique, niche products that don't come from Toronto or Vancouver. The Kicking Horse name is catchy and people like the idea that the coffee comes from somewhere they think is really strange." Their loyalty to the Kootenays blends with Rundle Rock Roast, Mocha Yoho, Bugaboo Blend, Kootenay Crossing and Grizzly Claw.
One of the company's more unique products is organic coffee that uses beans grown with no pesticides or herbicides. Most of their beans are also "shade grown" beans which are interplanted with native flora thus maintaining the natural habitat of local wildlife.
"We are one of the only roasters in Western Canada that carries such an extensive line of organic coffees," said Rosenfeld. "Organic is becoming the major part of our market. Most of our customers in Calgary buy the organic and the price is really only about a dollar more per pound."
The couple takes great pride in their work and enjoy the challenge.
"I like the creative aspect of it," said Johnson. "Some companies become complacent with their business, the challenge is to keep striving to improve, to become more and more creative and stay on top of it."
Their philosophy is simple—work hard and have fun.
"Our philosophy is balance," said Rosenfeld. "We work hard, but we live in the most beautiful area. We like to be personal in our business; we want people to love our coffee."
Perhaps Johnson summed it up best: "Life's too short to be drinking the wrong cup of coffee"