"Let's get it done" says Cranbrook's Mayor Lee Pratt
Cranbrook Mayor Lee Pratt presented his annual "State of the City" address at the recent Chamber of Commerce luncheon.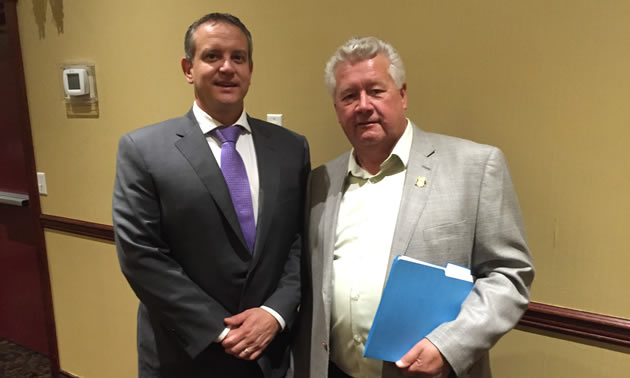 At the September luncheon of the Cranbrook Chamber of Commerce, Cranbrook Mayor Lee Pratt made his annual "State of the City" address.
Here are some highlights:
85 homes for sale on the Cranbrook market
2016 home sales projected to be in 260 - 265 neighbourhood
5% of purchasers are coming from Lower Mainland (a shift from Alberta)
Home prices are up 3.2%
$19.9 million value of building permits versus $9 million last year
177 building permits to far versus 162 last year
106 new business licenses versus 90 last year
1441 business licenses in Cranbrook
Passenger load at the Canadian International Airport is -3%
Integra Air is closing down at the end of October
Four major concerts at Western Financial Place saw some 7,349 people attend
George Thorogood concert was the highest attended at 2,138
City has invested over $147,000 in energy savings projects
Projected residential tax increase will be 2.26%
$500,000+ has been generated for a joint Cranbrook/Kimberley Development Initiative marketing campaign
City plans to borrow up to $10 million for infrastructure projects
There has been a streamlining the development permit process
Inter-community business license being introduced for businesses in Cranbrook/Kimberley
The old Firehall (heritage building) has received an offer for sale
A new destination marketing organization (DMO) has been established in Cranbrook
The City will save $400,000+ with new contract with a Kelowna-based company for 911 services
The City will launch a truck transportation survey to find out how many trucks pass through the city and what they are carrying
Presentation being made for an inter-modal hub in Cranbrook
Forestry interface project underway
MGX Minerals is still looking at moving ahead with processing plant on the former Tembec mill site
All in all, Cranbrook's mayor says it has been his mandate to "Let's get to yes and let's get it done." He predicts solid economic times for Cranbrook in the future.