Kootenay innovation on display at national conference
Austin Engineering is leading Canada in the use of 3D printed dam models for hydraulic and seismic testing in-house.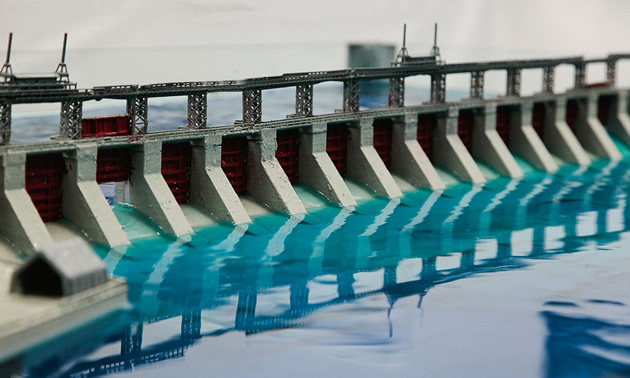 TRAIL – Austin Engineering Ltd. took its expertise across the country to Québec's Canadian Dam Association (CDA) Conference, where they presented innovative research on how dams respond during an earthquake. On display was their 3D printed dam structure model, set up on a shake table to demonstrate the company's ground-breaking research and experimental investigation into complex dam-water interactions.
"Going to the Canadian Dam Association and presenting as the authority on one of the most cutting-edge innovations in dam safety is really exciting," says Mary Austin, Director of Business Development. "It's really a privilege to be able to be presenting at this level."
The Trail, B.C. firm is leading Canada in the use of 3D printed dam models for hydraulic and seismic testing in-house, at both their own hydraulics lab and their research partner's lab at the University of British Columbia's (UBC) Okanagan campus. Their findings are not only important to the safety of dams worldwide but also to those who live and work downstream.
"Seismic research on buildings, bridges or roads – on static structures – is really well done. We know engineers can very easily analyze if a building is to be seismically stable," explains Mary. "The challenging thing about dams is you have a static structure with a massive body of water in constant motion behind it, and the interaction between the dam and water during an earthquake is not well understood."
For testing, the company used a 3D printed model of a FortisBC dam developed with existing research partners Selkirk College and FortisBC Inc. – which was provincially recognized last year with the Clean Energy BC 'Operational Excellence' award. Collaborating further with UBC Okanagan, a state-of-the-art shake table was used to test the digitally fabricated gravity dam to determine potential damage during seismic events for the 'extreme consequence dam' located on the Kootenay River.
"This technology provides real-time modeling of the dam against numerous factors, which is a powerful tool in portraying project concepts and details to diverse audiences," shares Darren McElhinney, Senior Project Manager, Generation, FortisBC. "Our team believes that 3D modeling is a cost-effective and innovative method that can be used on projects from concept through to completion, and we are excited to see how it develops".
The model headed to the annual CDA conference held October 13-18, where dam owners, operators, engineers and other stakeholders meet to advance industry knowledge and practices in Canada as well as on a global scale.
While Canadian standards are high and dam safety is paramount, corruption in other parts of the world can lead to lower quality, which can have a detrimental impact on the life of dams. There's been ample research on how dams react during tremors, but most of this research does not physically test the dam-water interaction.
This is where Austin Engineering focused its energy, along with UBCO's graduate research assistant Anas Salem Issa, M.Sc., M.CSCE and Associate Professor Rudolf J. Seethaler, PhD from the school's engineering lab. They created physical models with materials that match the natural frequency of the actual dam. Then, they observed the performance in both empty and full pool seismic events to mimic real-life quake scenarios, confirming the transient forces imposed by the upstream water.
Back at home in the Kootenays, Austin Engineering analysed the data, and Jason Taylor, an instructor and researcher with the Applied Research and Innovation Centre at Selkirk College, was a key player. Taylor was involved with the digital fabrication of the model during research and in mentoring students and is now contributing to the development of a Digital Fabrication & Design Program at Selkirk College.
"The discovery was that a dam responds quite differently when tested on a shake table with the water on the upstream side; in fact the water actually had a damping effect on the dams' seismic response in the tests," explains Roger Austin, Principal Engineer. "This is really significant because many dams require seismic upgrades, and in many cases the scope of the upgrade could potentially be reduced by properly testing a scaled model with a full pool of water upstream."
From an educational standpoint, the research conducted heralds a new era of dam safety – one started in a small town by a dedicated team of engineers that are committed to excellence, innovation and client success.