Kimberley's Pup-A-Tire turns old bike inner tubes into dog collars and leashes
The Pup-A-Tire collars and leashes come in a variety of shapes, sizes and colours.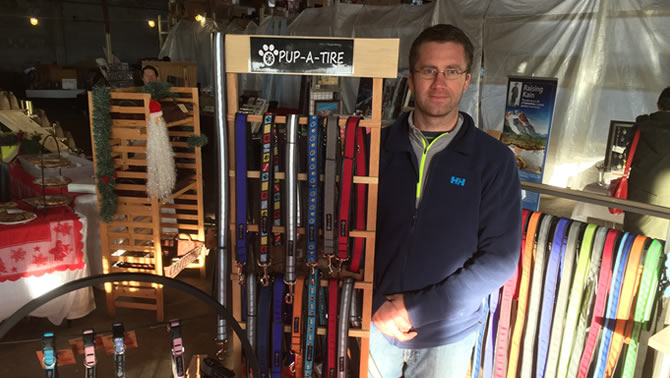 Here's another entrepreneurial success story coming out of Kimberley. This company, Pup-A-Tire, is a start up by owner Tanner De Bruyne and it combines the power of recycling with the re-purposing of old bicycle tire inner tubes.
Pup-A-Tire partners with local bike shops and community groups to gather used bicycle inner tubes. They then process the tubes, attach stylish designs, and turn the used rubber into durable collars and leashes for dogs.
So far Pup-A-Tire has primarily been marketing their products through local farmers markets and their website. They are also setting up a relationship with a number of local pet shops to sell the new products.
"I started playing around with different ideas on how to use these tubes, and at some point made a leash for Porter (Tanner's dog)." said Tanner De Bruyne. "Friends saw the leashes and wanted us to make one for them too. I quickly started to see the benefits and quality of these leashes and collars, and decided to turn our love for dogs, bikes and the Earth into a product that benefits all those areas."
"I believe in active healthy lifestyles for dogs, community and sustainable living. We make high quality products that support those beliefs," he added.
The Pup-A-Tire collars and leashes come in a variety of shapes, sizes and colours. Tanner De Bruyne looks to continue to expand his business as he adds more retailers to his list of distributors. Pup-A-Tire is a home-based business located in Kimberley.
Visit www.pupatire.com for more information.