Kimberley artist Caprice Hogg brings mountain vistas to life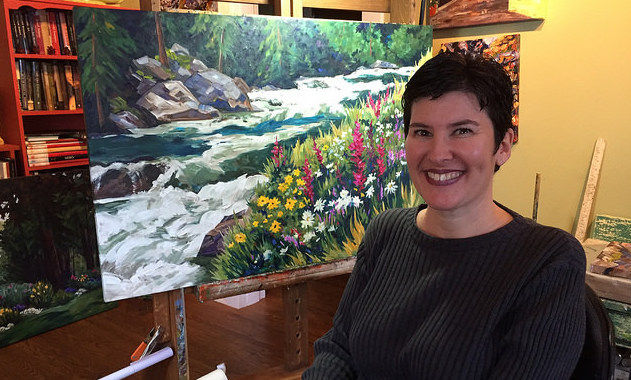 A love of the mountains is what drew Caprice Hogg to Kimberley and it's the same love that inspires her magnificent landscape art.
Caprice has been painting since 1994 when she was inspired and tutored by two important mentors, Karen Hersey and Keith Smith. She fell in love with producing original oil paintings of dramatic, vibrant landscapes and mountain vistas.
Caprice set up her in-home studio and art gallery just north of the Kimberley Platzl, where soft light streams in from tall south-facing windows. It is from this comfortable studio space Caprice produces a wide variety of small-, medium- and large-format original oil paintings.
"I have had my Studio and Gallery here in my house for over 10 years," said Caprice. "It allows me to be creative and work on my art three or four hours a day and still share my art easily with others when they visit my studio."
When asked what is one of the biggest challenges she faces, Caprice is quick to say that it is connecting with potential art lovers and buyers.
"I recently received a grant through the Kimberley Chamber of Commerce which allowed me to take a digital marketing course," she said. "It has really helped me develop a good website and use social media more effectively. I've always recognized that word-of-mouth recommendations were so important in the art world. So developing a communication tool like my monthly electronic newsletter has let me amplify that reach greatly."
Caprice loves producing special commission paintings for patrons. In fact, the majority of her portfolio is made up of private commission work. She takes the time to find out exactly what the person is looking for by means of an in-depth conversation or interview. Then she endeavours to infuse that vision and passion into the finished piece of art. She considers it is a privilege and honour to paint a commission.
In addition to producing her own artwork, she is a gifted and knowledgeable teacher. She offers private art lessons on a regular basis from her Studio Gallery and especially enjoys teaching young children the finer points of art.
She also works hard to balance her art with the demands of running a small studio/gallery business which including marketing, promoting and selling her art. She strives to make sure ends meet by bringing a consistency to her busy schedule throughout the year by levelling out the busier and slower times. Having her studio gallery based in her home has definitely helped in this regard.
It is evident that Caprice's life revolves around the arts. Her passion and excitement for her work is contagious and she loves to share it with others, whether in person, online or through her social media channels.
What makes her art so unique? "Some people say it's my style, others say it is my vibrant colours and style, while others say it's the imagination or passion that I am able to capture and portray in my landscapes," she said.
In addition to being a tremendous artist, Caprice is a diligent and devoted student of art. Her Studio Gallery is overflowing with dozens and dozens of art books which she eagerly devours, picking up pointers from the likes of the Group of Seven. She loves the influence and knowledge she discovers in this impressive library.
So next time you are in Kimberley, make a point to stop by Caprice's Studio Gallery on Boundary Street just north of the Platzl. You will wowed by her stunning original landscapes and be equally impressed by her warm and infectious spirit.