Keeping it in the family at Fernie Brewing Co.
It comes with great proudness and absolute pleasure, to announce Jeff Demaniuk will be joining the FBC team, as Head Brewer.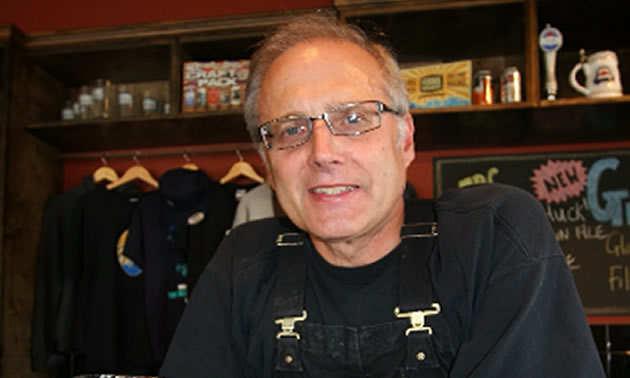 (Fernie, BC) – Fernie Brewing Co. (FBC) is undoubtedly recognized locally, as a family owned and operated business. Further afield, many may know of the Brewery's history and homegrown roots – starting in the owners' barn, then moving to the custom built Brewery just outside of town back in 2007, where since there has been many a family member or friend to have passed through payroll or simply been there to pack samplers, or maneuver a tank. It's the Fernie way, and FBC is forever grateful to the close connections and support they have.
However, as a popular mountain town full of transients, FBC's family has grown to be both multi-Provincial and multi-National over the years. Whether it's the powder snow, the local beer, or both, many staff members opted to ditch the backpack in favour of planting their roots in Fernie, and at FBC. Great news for the Brewery, as a plethora of skills and experiences have as a result, been merged into the perfect brew.
One staff member who undoubtedly was pivotal to the team for the last 5 years, was Fernie's Brewmaster Gord Demaniuk. Gord was instrumental in the growth and success of Fernie Brewing Co. He was not only passionate, but very creative in developing several new recipes, whilst becoming a mentor to the young brewing staff, educating them on all things brewing, developing their skills & expanding their pallets. As such, it's with great sadness, that on September 15th here in Fernie, BC, Gord passed away, after a courageous and lengthy battle with cancer.
Gord started out in the Brewing Industry over 38 years ago with Carling O'Keefe in Saskatoon. In 1978, he moved to the Molson Brewery in Edmonton where he spent the next 12 years. From there he moved onto other ventures in Prince Albert, Canmore, Strathmore and St. Albert. In 2011, FBC was lucky enough to have Gord relocate to Fernie to join the team.
Fernie seemed to be the perfect fit for Gord, as it matched both his passion for brewing and his love of the outdoors. He could be found walking on the mountain trails, skiing powder at the hill or cruising the highway in his Alfa Romeo. He had a love for music, art, Movie Classics, cars and Breaking Bad. Not to mention, family – both biological and brewing.
Whilst Gord's passing is a huge loss to the Fernie Brewing Co. family, there is one tiny part of this tale which brings hope, happiness and some resolve to both the Demaniuk and FBC families. Many might not realise it, but Gord's passion for brewing was a family affair. His love for the industry, and undoubtedly the stories he told over many a beer, resulted in both of his sons moving into the brewing industry, each taking their separate routes to success.
However, his eldest son, Jeff Demaniuk is following in his father's footsteps a few steps further than perhaps he ever imagined. With a science background just like Dad, followed by a brief stint in teaching, his Dad's stories perhaps got the better of him, as soon after he too moved into the world of brewing.
Jeff's brewing journey took him from Big Rock, to Phillip's, onto Village and most recently to Head Brewer at Trolley 5 in Calgary, with a strong brewing education to back his extensive skills gained along the way. It therefore comes with great proudness and absolute pleasure, to announce Jeff Demaniuk to be joining the FBC team, as Head Brewer in the new year.
Although Jeff was sad to have never got to brew alongside his Dad, taking on Gord's FBC legacy and developing brews to work alongside his Dad's award-winning and flagship beers, is the next best thing.
"My wife and I both love Fernie and we're both looking forward to being part of the community. It's a beautiful town with great people and great culture and I'm excited to join a great team at FBC. My dad was really proud to work there and I'm extremely honored to step into his role," says Jeff.
Fernie Brewing Co. couldn't agree more and look forward to welcoming Jeff and his new wife Erin to Fernie this winter, to enjoy everything Gord loved about Fernie, and of course to step into Gord's rubber boots.