Kaslo and Rossland listed as 2 of 17 Canadian places you must visit in 2017
"It's a new year and we hope you put "travel more" on the top of your to-do list," states Expedia.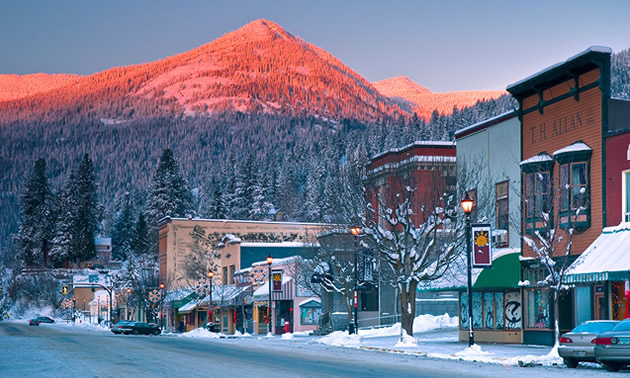 Of the 17 places in Canada that Expedia calls "must visits" in 2017—two are in the Kootenays—namely Kaslo and Rossland.
"It's a new year and we hope you put "travel more" on the top of your to-do list," stated Expedia. "It's 2017, the 150th anniversary of the country, and there are dozens of places hosting celebrations, unique festivals, and award-winning attractions. Each destination on this list caught our attention with a little something special. Whether it be standout cuisine or fresh adventures, making the most of this noteworthy year starts with trying something new."
Here is what Expedia says about Kaslo and Rossland:
Kaslo, British Columbia
What to See: With an ever-changing gallery and theatre schedule, you don't want to miss any events at The Langham. For more outdoorsy fun, check out professionally led mountain bike tours through Retallack, kayaking lessons with Kaslo Kayaking, or get to know the SS Moyie at the National Historic Site.
Places to Eat: With cool mountain air just outside, enjoy breakfast with a hot cup of coffee at Bluebelle Bistro & Beanery, some pizza and live music at Buddy's Front Street Pizzeria, and homemade soups from Treehouse Restaurant.
Where to Stay: With views of Kootenay Lake, the cozy yet vintage Kaslo Hotel is the perfect spot to stay during your trip.
When to Go: August is the most eventful time of the year in Kaslo, with both the Columbia Basin Culture Tour and the Kaslo Jazz Etc. Summer Music Festival taking place during this summer month.
Insider Tip: "Kaslo, set on the shores of a vast lake and surrounded by mountain ranges, is not on the way to any major centre. People just don't arrive in this village by accident. And most, once they've arrived, find it very hard to leave. Far from being a negative, Kaslo's isolation from the box stores, chain coffee shops and traffic of the city contributes to what makes it work. The village of less than 1,000 souls, with its tree lined residential streets and shop and restaurant-lined main street is the quintessential small town. People rely on each other here, and support their merchants and other local services." – Visit Kaslo
Rossland, British Columbia
What to See: Rossland is a winter wonderland. Enjoy the stunning mountain views as you're skiing, snowboarding, or sledding down the slopes. Turn to Black Jack Ski Club for access to the best trails. When you want to know where to go in 2017, this is the place.
Places to Eat: There's a little bit of everything in Rossland, and luckily, it's all good. Give in to the hoppy flavours at Rossland Beer Company, twirl up some noodles at Mook Thai, and dig into a pie at Misty Mountain Pizza.
Where to Stay: With picturesque views, nothing beats the Red Mountain Resort.
When to Go: Rossland comes alive in winter. Don't miss the annual Rossland Winter Carnival or the 2017 Red Mountain Resort Canadian Open Freeride Championship.
Insider Tip: "Rossland has been a great place to visit for years, but the trails in our area just keep getting better and better. If you are a hiker, mountain biker, wildlife enthusiast…this is the place to be in summer! Fresh air, over 200 km of professionally maintained single track trails (making us the mountain biking capital of Canada), fresh lakes nearby, funky downtown with boutique shops, cafes and restaurants using fresh locally sourced ingredients, etc. You also don't get the 'fake' or 'manufactured' vibe here, it's a real town with real people living real lives in a thriving little mountain town. We have festivals year-round that are known all over the world like Winter Carnival in January, the Rubberhead Enduro race in July and the Broken Goat trail running race in July. However, my favourite time in Rossland is when there is one of the smaller bike or running races going on. People are out, there is usually a good after party with music, lots of food to be had, overall cool vibe." – Kristi Calder, Tourism Rossland
For the entire list of 17 places to visit in 2017 according to Expedia click here.