Junior Dragons' Den and Junior Achievement BC partner to help young entrepreneurs
Junior Dragons' Den is modelled after CBC's hit show The Dragons' Den.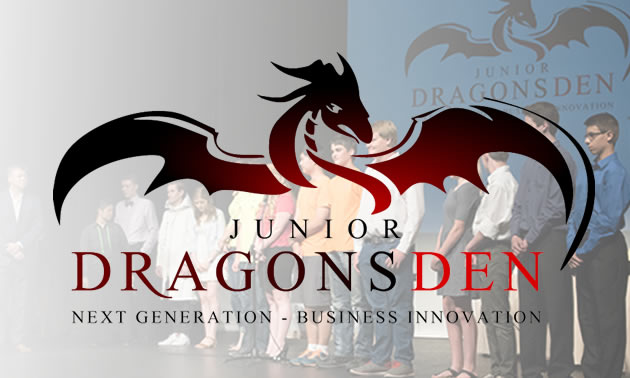 Community Futures' Junior Dragons' Den and JA British Columbia are teaming up to help young entrepreneurs in the Kootenays. Students throughout the region who are enrolled in JABC's Be Entrepreneurial program now have a competitive advantage when preparing to enter Junior Dragons' Den, a Columbia Basin-wide initiative where qualifying young entrepreneurs pitch their business idea to a panel of judges, in a live show format.
"The Be Entrepreneurial program is one of the many classroom-based learning programs available to students through JA British Columbia," stated Don Freschi, GM at Community Futures in Trail. "It covers everything from finance to product development and is the perfect 4-hour prep course for students when preparing their business concept pitch for a chance to compete," added Freschi.
"At JABC we believe in the power of partnership, and we are very pleased to be partnering with Community Futures(CF) to give young people in the Columbia Basin area the benefits of both Be Entrepreneurial and CF's, Junior Dragons' Den competition", said Jason Ranchoux, Regional Manager, Interior.
Modelled after CBC's The Dragons' Den, Junior Dragons' Den, which started as a West Kootenay-Boundary student business competition three years ago, expanded throughout the Kootenays in the fall of 2015.
Led by Community Futures, Junior Dragons' Den is open to students from Grades 7 through to post-secondary with regional competitions taking place in Nelson on April 20, 2017 and in Cranbrook on April 24, 2017. The winners from each respective competition will automatically advance to compete in the Junior Dragons' Den championship which will be held on May 6, 2017 at the Bailey Theatre in Trail, BC.
Submissions are evaluated based on finances, marketability, the product or service idea and the plan presented.

Registration for Junior Dragons' Den opens on November 15, 2016 and applications can be accessed via www.juniordragonsden.com.

To request Be Entrepreneurial, contact Meagan Noel at [email protected].
About JA British Columbia:
JA British Columbia (JABC) is a member of JA Canada and part of JA Worldwide (JA), the world's largest not-for-profit organization dedicated to educating young people about business. Since 1955, British Columbia schools have relied on JA to inspire and prepare youth to succeed in an ever-changing global economy. In 2016, over 38,000 BC students benefited from JABC programs delivered free of charge by volunteers from local business communities, who bring their real-life experience into the classroom. JABC programs focus on work readiness, financial literacy and entrepreneurship, giving students the confidence and skills they need to become the next generation of business and community leaders. JA programs are now available throughout the Kootenay-Columbia Basin area thanks to the generous support of Columbia Basin Trust. www.jabc.ca
About Community Futures and Junior Dragons' Den:
Junior Dragons' Den is a partnership between CFDC Greater Trail, CFDC Central Kootenay and CFDC Boundary, CFDC Revelstoke, CFEK and Community Futures BC. Community Futures fosters local entrepreneurs through all phases of business from the pre-start-up phase to the expansion of existing business. We offer entrepreneurial programs and training, business counselling, loan programs and a business library of resource material to people interested in expanding or starting a business. We also promote, co-ordinate and implement a wide variety of community economic development initiatives within the region. www.juniordragonsden.com
Junior Dragons' Den is co-sponsored by media partner Kootenay Business magazine as well — www.kootenaybiz.com