History conference at Nakusp features speakers
The Arrow Lakes Historical Society is hosting this year's B.C. Historical Federation Conference.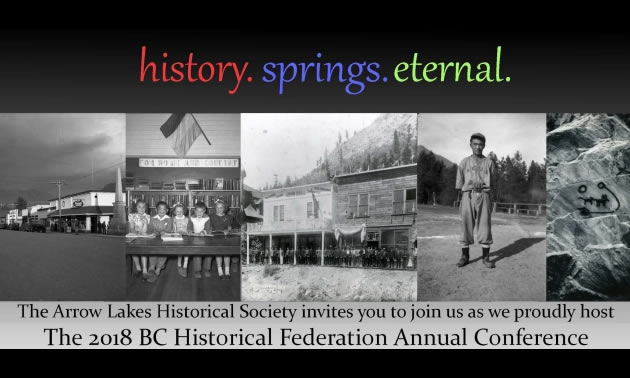 The annual 3-day B.C. Historical Federation Conference takes place this year May 24 - 26 at Nakusp. The Arrow Lakes Historical Society has put in a full year preparing for this event – becoming the host in the smallest town so far, as this event is held in a differing place each year. The conference last year was held in Chilliwack.
While the deadline for registering for the bus tours and the final event when the Lieutenant Governor awards for historic writing are presented, has already passed – coming to hear the array of speakers is free and does not require sign up.
Thursday May 24th
1:00 pm – Bruce Rohn — Life in Renata - until the town was destroyed by the Hugh Keenleyside Dam
2:00 pm – Tracy Fetters — Big Artifacts – the challenges of bringing the Nakusp Caboose and Snow Plow Home to Town
3:00 pm – Greg Nesteroff — Postcards of the Arrow Lakes
Friday May 25th
8:30 – 9:30 am — Official Conference opening. Keynote Speaker: Jennifer Dunkerson — Strategic Directions for Heritage Resources in the Columbia River Basin
10:05 am — Jay-Dell Mah - Western Canada's Baseball History
7:30 pm — Eileen Delahanty Pearkes and Kyle Kusch – A River Captured: The Columbia River Treaty and Catastrophic Change
Saturday May 26th
10:00 am – Media panel: Getting the Word Out with Mark Forsythe, Greg Nesteroff and John Macfarlane
11:15 am – BCHF Member Societies Discussion – Telling our Stories, moderated by Mark Forsythe
1:00 pm – Cameron Leitch – History of Logging in the Arrow Lakes Area
2:00 pm – Tom Lymbery – Chain Saw History
3:00 pm – John McFarlane – Facebook – Not What but How
For more information please look at www.bchistory.ca/conference/ and look at Guest Speakers.