Green Roads Recycling is an industry leader in road recycling—celebrating 30 years in business
We drive on them every day but seldom do we think of the fact that B.C. has some of the world's "greenest" roads.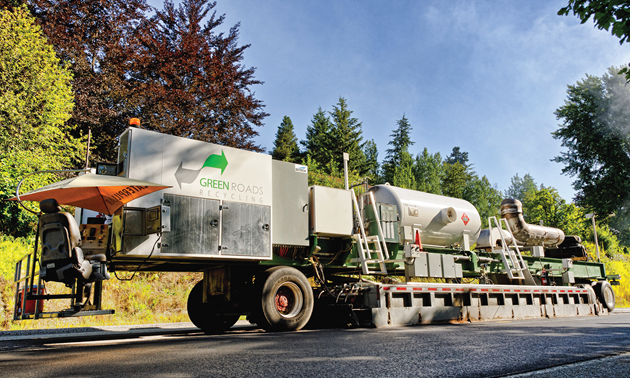 We drive on them every day but seldom do we think of the fact that B.C. has some of the world's "greenest" roads. That is, in large part, thanks to a Fernie-based company called Green Roads Recycling, which is a recognized leader in Hot-In-Place Asphalt Recycling (HIPAR).
Green Roads Recycling is celebrating 30 years in business in 2019. They work with provincial and municipal governments along with commercial enterprises across Western Canada.
"B.C. has the most sustainable roads in the world and is the best at recycling their asphalt roads," said Shane Stothert, owner of Green Roads Recycling. "We have champions working in our government. They stand up and do what is best for the citizens of our province."
For example, in 2016/17, Green Roads Recycling recycled close to 330 kilometres of provincial highway, conserving 52,800 barrels of oil, 148,500 tonnes of aggregate and 8,910 tonnes of GHGs. Developed in partnership with BC's Ministry of Transportation and Infrastructure, HIPAR is world-leading technology that turns what most would consider a depreciating asset— roads—into an appreciating one.
When you stop to think about it, Stothert said, "It's cradle-to-cradle life cycle costing—not cradle-to-grave. We need to think critically and not allow resources to be squandered and/or down-cycled. We need to stop planned obsolescence."
He added, "I call it industrial metabolism, which means rock and oil can be recycled over and over. Roads should be viewed as long- lived assets, not liabilities. The surface wearing, of course, may expire but the materials in the road don't. In fact, they are going up in value exponentially. Rock and oil don't grow like trees. They are non-renewable—once gone they won't come back for hundreds of millions of years."
Using Green Road innovative technology, HIPAR roads cost less, last the same amount of time and reduce our carbon footprint by more than 50 per cent. When we choose to recycle asphalt in place, British Columbians pay less and drive on smoother roads.
"The best asphalt oil is already sitting in our roads," Stothert explained, "and the thing about oil is that once it's in the road, it stays mostly intact. Oxidization only occurs at the surface level, and if you treat roads before they deteriorate, then you can almost continually re-heat and recycle the material that's already present, which results in cost savings and a substantial reduction in greenhouse gas emissions."
Stothert worries that some road recycling efforts are short-sighted. "We don't want to turn our roads into linear landfills," he said. "We need to keep our roads clean of contaminants like crumb rubber (from old tires), recycled plastics or shingles. These recycled additives actually make true recycling of asphalt difficult, if not impossible." This is, in Stothert's view, recycling at its worst—nothing short of "greenwashing." Why? It doesn't address the basic question, "What will happen to a road at the end of its life?"
Stothert sums it up: "B.C. is doing fantastic things with road resurfacing and our company is proud to be part of this movement. It would be great to see other provinces, regional districts and municipalities moving in the same direction," he said. "Faster, greener, cheaper, cleaner. Long-term sustainable.
"What more could you ask?"
Recycling advantages:
Recycles 100 per cent of the non-renewable resources
HIPAR roads cost less and last the same amount of time
Reduces the carbon footprint by more than 50 per cent
Keeps our roads safe and clean of contaminants
Putting plastics and other contaminants in our roads:
Costs more money
Results in higher overall emissions
Can lead to a decrease in the longevity of the road
Makes the road less recyclable or even non-recyclable.
Website: www.thinkgreenroads.com