Genome BC returns for another public talk to science enthusiasts in Cranbrook
The aim of the speaker series is to encourage dialogue between academic researchers and the general public about genomics.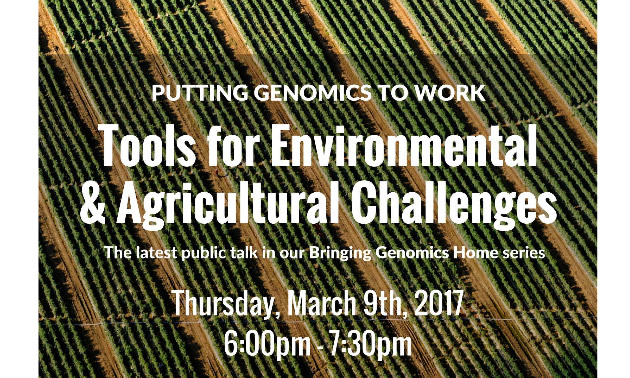 Cranbrook BC - Genome British Columbia is excited to be returning to the College of the Rockies in Cranbrook for another community focused public talk. The talk is part of Genome BC's Bringing Genomics Home speaker series which aims to connect and encourage dialogue between academic researchers in the field of genomics and the general public.
Community members are welcome to join Drs. Catalina Lopez-Correa and David Charest from Genome BC for a lively and engaging presentation: Putting Genomics to Work: Tools for Environmental and Agricultural Challenges. This discussion will explore how genomic tools can be used to help the environment adapt to climate changes and agricultural shifts and the types of research projects in BC that exist in these areas.
"We look forward to returning to Cranbrook for another public talk" says Dr. Catalina Lopez-Correa, Chief Scientific Officer and Vice President, Sector Development. "This time we will be shifting gears from a health focus to looking at how genomics is used in the natural resource sectors - especially in regards to improving environmental conditions and the food we eat. It will be an interesting evening with plenty of time for audience interaction and questions."
"The Genome BC event offers an incredible interactive learning opportunity for our students, faculty and community members" says Andrena Heigh, Biology Instructor at College of the Rockies. "We are fortunate to have these speakers come to our community and share their expertise on topics that affect all of us. This is our 7th year hosting this popular event and we are very much looking forward to it."
This free public talk begins at 6:00pm on Thursday, March 9th at College of the Rockies, Lecture Theatre 250- 2700 College Way, Cranbrook BC. For more information and to register for this free event please visit: http://www.genomebc.ca/bghcranbrook2017