Full Curl by Cranbrook's Dave Butler wins the Arthur Ellis Award for Best First Crime Novel
The second book in the series, No Place for Wolverines, comes out in October 2018.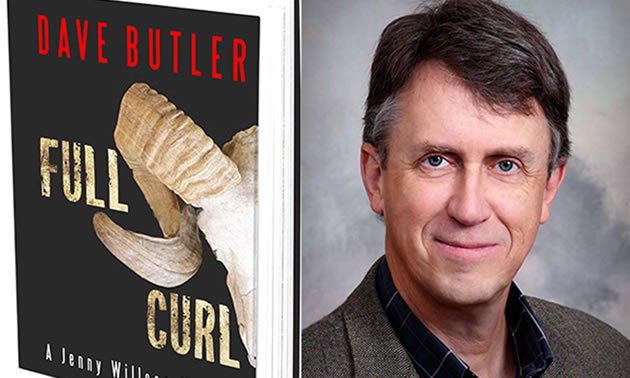 Dundurn Press is thrilled to announce that Full Curl by Dave Butler won the 2018 Arthur Ellis Award for Best First Crime Novel last night at the Arthur Ellis Awards Gala in Toronto. Dundurn acquisitions editor Scott Fraser accepted the award on behalf of Dave Butler. The annual Arthur Ellis Awards by Crime Writers of Canada recognizes the best in mystery, crime, and suspense writing in fiction and non-fiction by Canadian writers.
Published in September 2017, Full Curl is the first book in the Jenny Willson Mystery Series that features park warden Jenny Willson who is known for saying what others can't or won't. In 2015 it was shortlisted for the Unhanged Arthur Award for Best Unpublished First Crime Novel. Full Curl is also currently nominated for the 2018 Kobo Emerging Writer Prize in the mystery category.
In Full Curl, Jenny Willson discovers animals disappearing from Canada's mountain parks, and she finds herself racing down a trail lined with deceit, distraction, and murder, and tempted to cross a line to a place she might not be able to come back from.
Booklist wrote that this is "a series readers will follow for a long time." Kirkus Reviews wrote that "Butler's strong debut shows a powerful heroine determined to bring a nasty but fully fleshed-out set of baddies to justice."
Dave Butler is a forester and biologist living in Cranbrook, B.C., in the shadow of the Rocky Mountains. His writing and photography have appeared in numerous Canadian publications. Dave is Director of Sustainability at Canadian Mountain Holidays, a Queen Elizabeth II Diamond Jubilee Medal winner, and a Royal Canadian Geographical Society Fellow.
The second book in the series, No Place for Wolverines, comes out in October 2018.
About the Arthur Ellis Awards
The Arthur Ellis Awards are a group of Canadian literary awards that were established in 1984 and named after the nom de travail of Canada's official hangman. They are presented annually by the Crime Writers of Canada for the best Canadian crime and mystery writing published in the previous year.
About Dundurn Press
Dundurn Press was founded in 1972 by Kirk Howard. At first a small publisher of Canadian and military history, the company now releases more than 100 titles each year. Dundurn's publishing program includes award-winning adult and YA fiction, mysteries, biographies, business, and current affairs titles.