Fernie business legend Heiko Socher passes away
The German-born forester transformed a little local ski hill into a world-class resort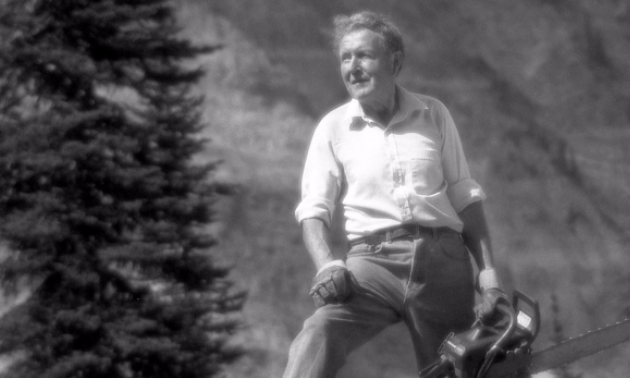 A legendary figure in the Kootenay business community has passed away. Heiko Socher, a German-born forester, bought Fernie's Snow Valley Resort in 1972 from a group of local businessmen – including the MacDonald brothers of Grasmere, who owned the timber rights on the Lizard Range at the time.
He literally, often with his bare hands and a chainsaw, transformed the little local ski area into an internationally recognized ski destination, known today as the Fernie Alpine Resort.
"Heiko was well-known to be in his pickup truck and with his chainsaw. Of course, he used his chainsaw to cut the trails on the mountain on the slopes above Fernie," said Mike Delich, a long-time friend and business associate. "He was in it for the common good. He would always think of his employees, he would think of the community and he would think of the generations of skiers," Delich told the CBC's Calgary Eyeopener radio program.
Heiko Socher also gave back to the community in a big way — donating funds to complete the City's Chamber of Commerce and supporting the career of former alpine racer Emily Brydon, he added. "He was a legend in our community," said Delich, owner of Fernie Mountain Properties.
Heiko Socher retired from the resort in 1997, and eventually the rapidly expanding ski area was sold to Calgary-based Resorts of the Canadian Rockies.
In recent years Heiko Socher had been championing a new mountain resort near Fernie, dubbed Heaven's Gate, described as a "four-season, multi-generational mountain experience connected to the heart of downtown Fernie." The proposal was to build a $150 million gondola to the top of Fernie Ridge (7,300 feet) with a mid-station and village on top of Ridgemont – and would be built with the "locals" in mind.
I personally remember Heiko Socher for his brusque exterior and exacting demands but a man balanced with a caring attitude and genuine interest in his employees. He was my first real boss when I worked as a "liftie" on weekends at the Snow Valley Resort in the mid-1970s.
We extend our condolences to all Heiko Socher's family, friends and business associates. Fernie, the ski industry and the business community will miss his leadership and vision.