Environment Projects to benefit Basin
The projects address one or more of the program's four goals: Ecosystems, Climate, Water and Environmental Education.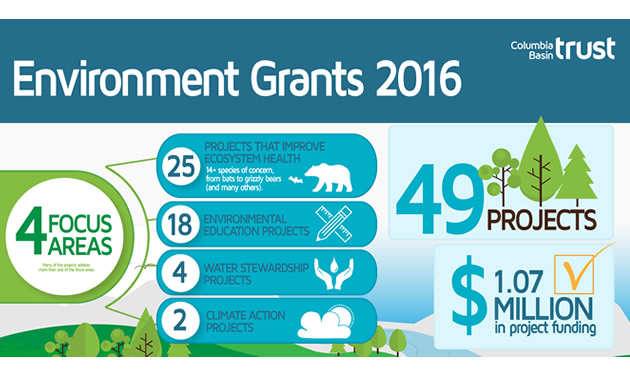 (Columbia Basin) – Forty-nine projects were approved for funding in 2016 with a combined total of $1.07 million from Columbia Basin Trust's Environment Grants program. The projects address one or more of the program's four goals: Ecosystems, Climate, Water and Environmental Education.
"We know residents value a healthy environment," said Tim Hicks, Columbia Basin Trust Manager, Water and Environment. "We are pleased to support so many worthwhile projects that will contribute to environmental well-being."
Projects in the Cranbrook/Kimberley region are:
ʔaq̓am
ʔaq̓am Invasive Plant Goat Grazing - Remove invasive plants from approximately 300 hectares of grassland and educate community members about invasive species.
Cranbrook
Incidental Take of Nesting Birds Forum - Host a forum that aims to improve ecological management of migratory birds in industrial environments.
Kimberley
St. Mary River Burbot Enumeration - Collect data about spawning burbot in the lower St. Mary River and support ʔaq̓am community members to learn more about local burbot populations.
McGinty Lake Environmental Education Program - Develop and deliver a curriculum-based environmental education program for elementary students to learn about McGinty Lake's ecosystem.
Ktunaxa Nation
Ktunaxa Environmental Education Project - Engage with four communities to plan a series of workshops on topics such as water and water quality, invasive species, environmental monitoring, species at risk, ecosystem restoration, forest health and wildlife management.
Regional District of East Kootenay
Engaging Communities in Organic Diversion - Deliver an education and outreach program that will inform East Kootenay residents on the greenhouse gas impact of solid waste and encourage residents to participate in the Regional District of East Kootenay's organics waste pilot program.
East Kootenay Badger Habitat Restoration - Restore and enhance critical habitat for American badger in the East Kootenay.
Basin-Wide projects are:
Grizzly Bear Coexistence Solutions - Improve human-grizzly bear coexistence in the Basin by delivering community-based education and providing practical solutions, such as electric-fencing for attractant management.
Columbia Basin Wolverine Research and Outreach - Model the population abundance of wolverines to better understand the effects of human disturbance and land management activities on wolverine density within the Columbia Basin.
Mainstreams Education and Stewardship - Deliver an environmental education program for both schools and the public focusing on water science, macro invertebrate ecology, and climate change adaptation.
For more information about the program and to read about the 2016 approved projects, visit ourtrust.org/eg. To learn all the ways the Trust supports environmental well-being in the Basin visit, ourtrust.org/environment.
Columbia Basin Trust supports efforts to deliver social, economic and environmental benefits to the residents of the Columbia Basin. To learn more about the Trust's programs and initiatives, visit ourtrust.org or call 1-800-505-8998.