Elkford Community Conference Centre is a showpiece for green building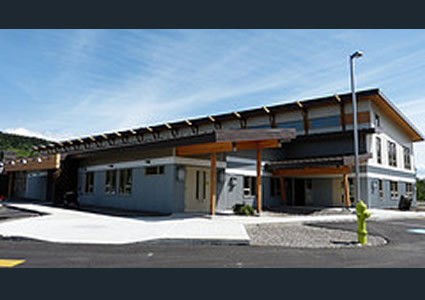 "These outstanding projects (the Elkford conference centre among them) demonstrate a blend of leading-edge international technologies and B.C. design concepts," said Mary Tracey, executive director of Wood Works! BC. "B.C. is entrenching its status as one of the global leaders in wood design and engineering, and innovative uses of wood applications."
The Elkford Community Conference Centre is a $6.4 million centre serving the 2,500 residents of Elkford. It includes a visitor information centre, play school, a commercial kitchen, banquet hall, multipurpose meeting rooms and historical displays.
"The district of Elkford wanted a signature building that reflected the optimism of growth in this resource/tourism community in southeastern B.C. and incorporated the dynamic forms found in the surrounding mountains," said architect Douglas Sollows.
The use of cross-laminated timber (CLT) wall panels—as large as 10 feet by 50 feet—is the first commercial application in North America. The CLT panels demonstrate strength and stiffness by resisting high wind loads for the building and are lighter, more environmentally friendly and easier to install than metal or concrete panels.
The Elkford Community Conference Centre held its grand opening in June 2012. The project caught the eye of the publishers of Greenspace BC magazine and was profiled in a recent issue.
Source: Greenspace BC—BIV publications