New East Kootenay Community Credit Union building underway in Sparwood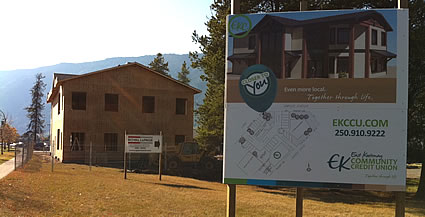 Hammers are flying at the new East Kootenay Community Credit Union (EKC) building in Sparwood. Scheduled for in the new year, the credit union is proud to announce the opening of its first full-service branch in Sparwood.
The temporary branch is scheduled to open soon. Conveniently located on Aspen Drive, new roots are being planted in this wonderful town—a place that's already home to many of credit union members. Stay tuned for more updates!
At EKC, the commitment to the communities they serve has always gone beyond the financial products and services they provide. Now, with their first branch opening in Sparwood, their member-run board of directors has approved an initial commitment of $27,500 to help fund community projects in 2011 and 2012.
The Sparwood branch will be located at: 124 Aspen Drive, P.O. Box 1030, Sparwood, B.C. V0B 2G0
For more information about the Sparwood branch, please contact Eric Johnstone, branch manager at 250-423-9222.