Don't miss world-class climber, Gord McArthur, guest speaker at 40 under 40 luncheon
The luncheon will also feature interviews with Invermere mayor and business owner Gerry Taft, and Kootenay Ice coach Luke Pierce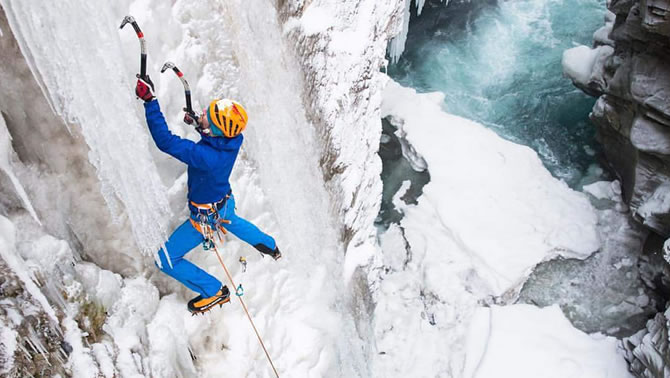 The first ever 40 Under 40 Awards luncheon is shaping up for Friday, April 8, 2016 from 11:30 a.m. to 1:30 p.m. at the Prestige Inn in Cranbrook.
Guest speaker Gord McArthur is a world-class climber from Cranbrook who now travels the world every winter with Team Canada on the World Cup Ice Climbing Tour. His presentation is entitled Climbing for Success in Sport, Business and Life.
The luncheon will also feature one-on-one interviews with Invermere mayor Gerry Taft, who is B.C.'s youngest mayor, owner of Gerry's Gelati and under 40 himself, as well as with Kootenay Ice coach Luke Pierce, 31 years old and in his first WHL season as a head coach. Local performer/musician Dawson Rutledge will be performing from 11:30 a.m. to 12 noon.
Kootenay Business sought out the top 40 young business leaders in the Kootenay/Boundary/ Revelstoke areas to honour this group of under-40-year-old rising stars. Sixteen communities are represented by these young business stars, who are featured in detailed online profiles.
Commonalities exist within this dynamic group of young business owners, partners, managers or key employees, who stand a head above the rest of their peers for their business or professional achievements, their innovation and leadership, and their community involvement but most of all for their youthful enthusiasm.
One common theme among these younger business folks is that they live here for the spectacular Kootenay lifestyle. Some were raised here, left for adventures or educations, but returned home. Others escaped the big cities and sought out our region's amenities. And a few of these Kootenay kids—now adults—never left.
A second theme is that many of these younger business folks are entrepreneurs—they started their own businesses here. "You can't really find employment in my line of work in a small town, so becoming an entrepreneur was the only option to live here and still work in my profession," said Jana Skerlak, owner of Bullet Point Marketing in Golden, B.C.
Kootenay Business publisher Keith Powell will select four individuals from the East and a similar number from the West for special recognition at a luncheon on April 8, 2016 from 11:30 a.m. to 1:30 p.m. at the Prestige Inn in Cranbrook. Call 250-426-7253 for reservations.