DMG Blockchain's 85-megawatt crypto mining facility now fully operational in WK/Boundary
DMG's green-powered crypto mine took nearly a year to complete and included building its own road.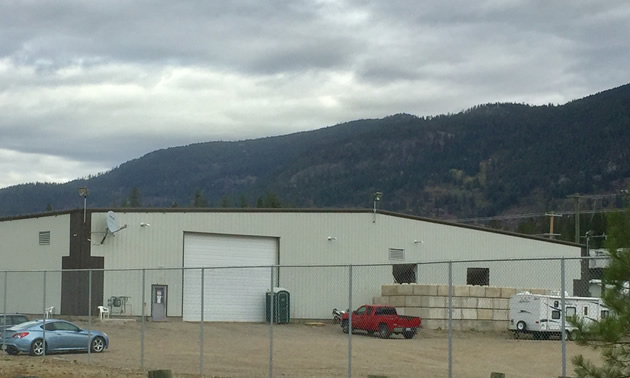 In November 2018, DMG Blockchain Solutions Inc. a diversified blockchain and cryptocurrency company, announced that it has successfully energized up to 60 megawatts of its 85 megawatt crypto mine.
DMG's 27,000 square foot crypto mining-as-a-service (MaaS) operation sits on 34 acres in British Columbia, Canada and is one of the largest such operations in North America. The facility is currently using clean hydroelectric power, and will not have any impact on the power needs of the local community.
"In Boundary Electric's 71 years of business, we have never seen a demand in the electrical manufacturing industry quite like what is being generated from the crypto space. The opportunity to collaborate with DMG on projects has brought to the forefront their commitment to creative solutions facing their industry. DMG's approach to the design process highlights a partnership strategy focusing on cost effective solutions without compromising quality," said Dave Evdokimoff, CEO of Boundary Electric.
DMG's green-powered crypto mine took nearly a year to complete and included building its own road, installing its own power substation, and creating many jobs.
Jason Wolfe, Director of Energy Solutions at FortisBC added, "FortisBC is excited to be working with DMG on this project. Not only is DMG one of the largest electric customers we have ever connected, but it's an emerging industry that's providing new opportunity for rural communities."
The power that DMG is bringing to its new facility is enough to power a city of 50,000 homes, but is independent from the local community grid.
"DMG now proudly owns one of the largest, most cost-efficient, bitcoin mining facilities in North America–and we're doing it in a responsible way with the local community," said Dan Reitzik, CEO of DMG Blockchain Solutions. "It was an audacious undertaking, but DMG's executive team has been in the mining space for years, and we have the know-how and connections with the utilities and government agencies to pull it off."
DMG Blockchain also announces that Simon Padgett has stepped down as a Director of the Company.
Also in November 2018, DMG Blockchain Solutions Inc. announced that it has signed a Mining as a Service (MaaS) contract with a major blockchain industry company to host approximately 7 megawatts of bitcoin mining capacity. The new customer will pay DMG's hosting fee for approximately 4,200 newer-model bitcoin miners. The agreement term is three months, with automatic renewals every three months.
Supporting DMG's ability to fill its mining capacity is the recent large drop in Bitcoin network computing power (hash rate), which enables large-scale industrial miners, like DMG customers, to still be profitable on an operational basis, even at current bitcoin pricing.
DMG CEO, Dan Reitzik stated, "We are pleased that, just as we energized our new substation, we added a significant new client and we are now filling our capacity in accordance with DMG's MaaS growth strategy. We have been very careful to preserve capital in our first year as a public company by focusing on our MaaS hosting model. Given our solid position, we are thus prepared to fill the remainder of our capacity with new generation mining equipment in the new year, which should result in additional cash flow generation for both DMG and our clients."
The Company also announced that an existing client is expanding its hosting contract with DMG to include an additional 1,850 miners (approximately 2.5 megawatts).
As well, 1,650 older-model bitcoin miners (approximately 2 megawatts) from previous MaaS contracts have recently been turned off for up to 90 days for two clients with the option to turn back on at any time during the 90 days before their contracts would terminate.
In January 2019, DMG announced that it has not been able to file the Company's annual audited financial statements and accompanying MD&A for the year ended September 30, 2018 (the "Required Filings") by the filing deadline of January 28, 2019 and, as such, is in default under applicable securities legislation. MNP LLP resigned as the auditor.
In February 2019, the company announced that it has appointed Manning Elliott LLP ("Manning Elliott") as its new audit firm for its fiscal year ending September 30, 2018.
Forward looking statements apply.
About DMG Blockchain Solutions Inc.
DMG Blockchain Solutions Inc. is a diversified blockchain and cryptocurrency company that manages, operates and develops end-to-end solutions to monetize the blockchain ecosystem. DMG, with its Blockseer division located in Silicon Valley, intends to be the global leader in industrial scale crypto mine hosting – Mining as a Service (MaaS), crypto mining, blockchain forensics/analytics, and blockchain platform development.