Cranbrook's Fisher Peak Brewing Company now canning beer
Heidi Romich, owner of Heid Out Restaurant and the Fisher Peak Brewing Company, says the initial response has been incredible.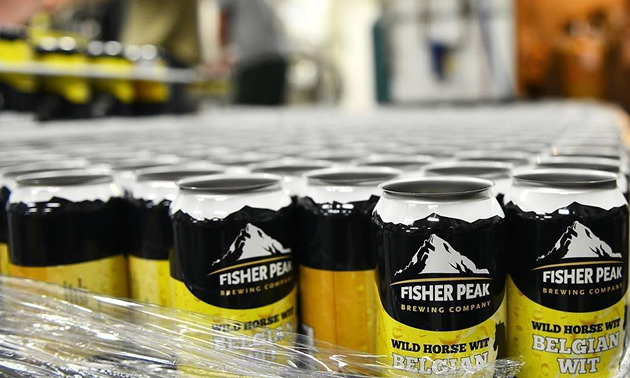 Fisher Peak Brewing Company, located on Cranbrook's Baker Street, is now canning three types of beer in convenient six packs. They are the popular Wildhorse Belgian Wit, the Prospector Pilsner and the Elephant Run IPA. So we wanted to ask Heidi Romich about her new move from just selling beer on tap to canning beer as well.
"Our canning machine arrived June 27th. We had two fellows out from CASK Canning to calibrate the machine and train brewmaster Jordon Aasland on June 28th and June 29th. We then canned our first tanks, the Belgian Wit on 29th, the IPA on the 30th and the Pilsner on the 1st of July. Each of those days we started selling that batch in the restaurant, and then we did our first shipment to the Cranbrook BC Liquor Store on July 7th, said Heidi Romich, owner of Heid Out Restaurant and the Fisher Peak Brewing Company.
Heidi added, "Our beers are now on the menus of some local establishments... the first being Wildstone Golf Course. Recently we made our first shipment to the Kimberley BC Liquor Store and to the Creston BC Liquor Store."
Overall capacity right now at Fisher Peak Brewing Company is 25,000 litres of beer at any given time on site. They are canning 2700 - 2800 cans at a time. So when they have just completed canning all three types of beer they have around 7 500 cans in the craft brewery's newly constructed walk-in cooler which is located in the basement next to the brewery.
Why start canning beer? "A couple of reasons. We wanted to offer beer in cans. From a business standpoint we wanted to be diversified, so we ordered 6 extra conditioning tanks which were delivered in March allowing us the extra capacity.. We will probably be ordering 4 more to be fabricated," Heidi said. "This will allow room for our regular on tap beer, seasonal beers and canning beer."
Another reason is because of the lifestyle we enjoy here. Growlers (1.89 litres jugs) are great to take beer home, camping or to the lake, however they need to be consumed within a few days to be still fresh, they are a bit heavy and the glass can break.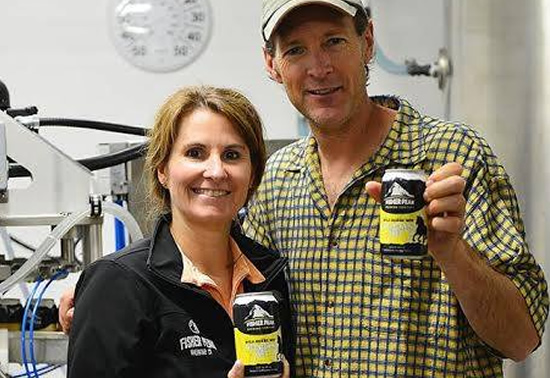 She further explained, "We spent quite a bit of time discussing whether we should bottle or can our beer, and finally decided on the cans. We thought they were the best option because they do not need to be consumed so quickly, they pack easily and are quite light, and they won't break (particularly if someone is camping, cycling, climbing, kayaking etc.). We also chose the more expensive snap tops to carry which will not harm ducks or animals like the plastic 6-pack can holders. A nice bonus with the snap tops are that you can unsnap your beer and make your own variety pack."
What has been the response? "So far the response has been incredible. People are excited for the above reasons. The Cranbrook Liquor Store has said response has been extremely good as well. Some folks ask for it specifically, some are looking for a local beer and not sure what Cranbrook has, and some are the businesses that are now carrying our beer that are ordering from the liquor store. Those businesses are liking it as well, especially for the out-of-towners asking for something local," said Heidi.
What does the future hold? She says, "We hope that Cranbrook folks will feel proud because we feel that it is their beer and their brewery. Next steps are to can some of our other beers regularly on tap and including seasonal favourites like the Ginger and Scottish."