Cranbrook Chamber 2019 Business Excellence Awards Gala
This year's Cranbrook Chamber of Commerce Awards gala saw 80 Cranbrook businesses and business people nominated for awards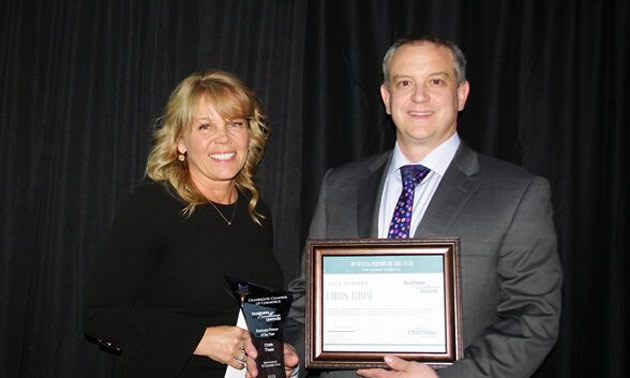 The Cranbrook Chamber of Commerce celebrated their annual awards gala over the past weekend. The banquet event saw 80 Cranbrook businesses and business people nominated for awards. Several new or newer categories were highlighted such as Non-Profit Organization of the Year, Inclusive Employer Award and Age Friendly Business.
The sold out gala dinner attracted an audience of over 250 people and was held at the St. Eugene Golf Resort.
Here are the winners in each of the categories:
Hospitality & Tourism Excellence: The Heidout and Fisher Peak Brewing Co.
Non-Profit Organization of the Year: Arch Allure Microblading
Retailer Excellence: Huckleberry Books
Inclusive Employer Award: Leiman Homes
Business-to-Business Excellence: Genex Marketing
Customer Service Excellence: Bighorn Electric
Age Friendly Business: Auntie Barb's Bakery
Business of the Year (1-15 employees): The Hearing Loss Clinic
Business of the Year (16+ employees): New Dawn Developments
New Business of the Year: Kootenay Farm to Folk
Young Entrepreneur of the Year: Tamara Mercandelli, Christel Hagn, Caitlin Berkheim – Kootenay Soulfood Company
Business Person of the Year: Chris Thom – Dunlop Truck Centres
Congratulations to all the nominees and winners in the Cranbrook Chamber of Commerce's Business Excellence Awards.