College of the Rockies News and Notes
The College of the Rockies delivers instruction to approximately 10,000 learners, in a full range of programs.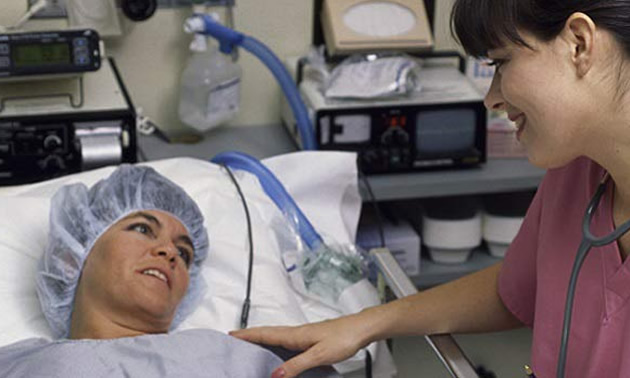 BSN students explore the future of healthcare in the East Kootenay
The public is invited to attend the first-annual Student Leadership Conference being put on by Bachelor of Science in Nursing (BSN) Year 4 students at College of the Rockies Thursday, December 6.
The theme of this year's conference is Coming into Focus: Envisioning the Future of Rural Health Nursing in the East Kootenay Region.
"This group of students is our first class to complete all four years of their Bachelor of Science in Nursing education at the College," said Norma Sherret, Dean, Health and Human Services. "The leadership conference is an opportunity for these students to showcase the knowledge, skills, and abilities they continue to develop and demonstrate as the nursing leaders of the future."
Students will present on work that has been completed as part of their nursing research and nursing leadership theory courses as well as a nursing leadership practicum. Topics include the impact of patient engagement, engaging in policy to create change, exploring challenges with respite care, and examining the role of Residential Care Aides in providing palliative care.
"The BSN students have been doing innovative work to promote health and reduce inequities in our communities," added Sherret. "I'm sure all who attend will be as inspired by their efforts as I am."
The eight student presentations, each 20 minutes in length, may be of interest to those in the health care field as well as to members of the public interested in the future of health care in the East Kootenay region.
The conference runs from 8:30 a.m. to 3:30 p.m., Thursday, December 6, in Room 250 (Lecture Theatre) at College of the Rockies' Cranbrook campus.
There is no fee to attend, but cash and non-perishable food donations will be collected at the door to benefit the Cranbrook Foodbank Society.
The Bachelor of Science in Nursing program is offered in partnership with the University of Victoria, with students now able to complete the entire four years at College of the Rockies.
Learn more about the Bachelor of Science in Nursing program at: cotr.ca/regnurse
COTR expands cannabis training in Creston
As legalization of cannabis in Canada has come into effect, College of the Rockies is responding by expanding their cannabis training options at the Creston campus. Three new courses are geared toward the home cultivator: Cannabis Regulations, Introduction to Indoor Growing of Cannabis, and Introduction to Outdoor Growing of Cannabis.
Currently, cannabis legalization regulations allow Canadians to grow up to four cannabis plants at their residences.
"College of the Rockies' Creston campus has a long history of horticulture programming," said campus manager Kim Garety. "With the recent legalization of cannabis, it made sense for us to use our expertise to respond with appropriate training opportunities. Many individuals will be interested in cultivating cannabis in their homes, and we aim to help them to fully understand the federal and provincial regulations and current cultivation techniques."
These short-term courses build on the College's online Cannabis Retail Specialist program which recently welcomed its second full-class of students.
The Creston campus' cannabis-related training options will grow again in spring with the addition of Cannabis Harvesting and Curing and Cannabis Processing for the Home Grower courses.
"The ability to cultivate cannabis is a skill-set that is going to continue to be in-demand," Garety added. "Whether one chooses to grow cannabis in their home or, eventually hopes to work in the cannabis production industry, a solid understanding of strains, growing techniques, pest control, and regulations is essential."
For those interested in a career in the cannabis industry, the Cannabis Retail Specialist program is accepting applications for the February 4, 2019 intake. Go to: cotr.ca/cannabis-retail for more information.
Learn more about College of the Rockies' Cannabis cultivation programs at: cotr.ca/creston
About College of the Rockies
For more than 40 years, College of the Rockies has provided post-secondary education that meets the needs and aspirations of the people, industry and businesses of our region. Each year, we deliver instruction to approximately 10,000 learners, in a full range of programs, including: skilled trades, university studies, adult upgrading, early childhood education, health and human services, business, office administration, tourism and recreation, fire services, continuing education and general community interest. Through smaller class sizes, highly-personalized instruction and dedicated support services, our students are primed to succeed in the job market, or in the next stage of their academic journey.