City launches 2019 Laneway House Design Competition
This project was launched by Nelson Council, in conjunction with Small Housing BC, and has resulted in significant interest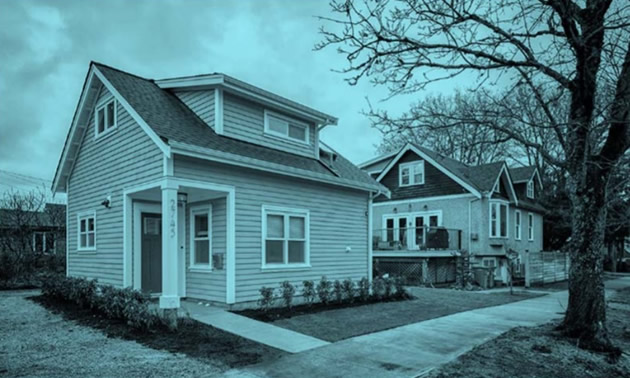 The City of Nelson is launching an open, two-round laneway house design competition. The objective is to generate high-quality, pre-reviewed laneway house building plans that will offer exceptional value-for-money for homeowners, while balancing affordability with sustainable design. The program will simplify the process to build a laneway house, increasing uptake of laneway housing.
City research indicates that many homeowners who are investigating laneway housing do not have development experience and the scope of the project can be overwhelming. One of those daunting variables is commissioning a design. This project was launched by Council, in conjunction with Small Housing BC, and has resulted in significant interest by the community in using a pre-approved design. City staff anticipate that pre-reviewed designs will be most popular among those who would otherwise design their own laneway house without hiring a professional or seek to purchase stock plans online.
The Design Review Panel is composed of five members, including architect Ross Chapin (the author of "Pocket Neighborhoods" whose work focuses on smaller infill home design), Damon Hayes Couture of Studio North (a Calgary design-build firm specialized in laneway houses), Jake Fry of Small Housing BC and Smallworks (a Vancouver design-build firm specialized in laneway houses), local builder Ed Olthof, and the City's Director of Development Services, Pam Mierau.
The Design Review Panel will evaluate all submissions anonymously against the following criteria:
Design: successful designs will be high-quality, attractive, and practical.
Good home, good neighbour: successful designs will be appreciated by both neighbours and occupants of the laneway house.
Affordability: in their use of materials, successful designs will strike a balance between affordability and sustainability that will be attractive to Nelson property owners.
Flexibility and longevity: the winning designs will be those that are the most elastic, meaning adaptable to and replicable across a variety of lots, neighbourhoods, lot configurations, and topographies in Nelson (which are often steep). Maximize opportunities for easy customization to accommodate individual appetites for affordability, finishing, and sustainable design features. Entrants will be rewarded for designs that show promise of a high shelf life.
Eco-Design
The program also incentivizes laneway houses achieving Step 3 of the new BC Step Code for energy efficiency. Step 3 represents 20% greater efficiency than conventional building techniques.
"Building a laneway house makes sense for many homeowners as they are able to create new housing with land that they already own." says Mayor John Dooley. He adds, "This competition might help inspire Nelson homeowners to move forward with their projects and equip them with high-quality, practical building plans to make it that much easier to go forward with their build. Using award-winning designs will make laneway housing even more welcoming and practical in our community."
Three designs will be selected and cash prizes for the top three will be awarded. A "people's choice" vote will also be held to involve all residents. Designers will receive a royalty of $1,000 each time the plan is purchased by a homeowner. The tentative timeline would see these plans available as early as February or March 2020. Purchasers seeking site-specific modifications will be encouraged to consult the original designer, which would thus generate new work opportunities.
The City invites all designers, architects, and student teams with an interest in urban infill, laneway housing, and mountainous urban environments to enter.
For full contest rules and criteria, please see the Call for Submissions.