CEO of Canadian Electricity Association visits Cranbrook and Kimberley
While in the area, Mr. Marchi also toured the Kimberley SunMine facility and met with the mayors of both Kimberley and Cranbrook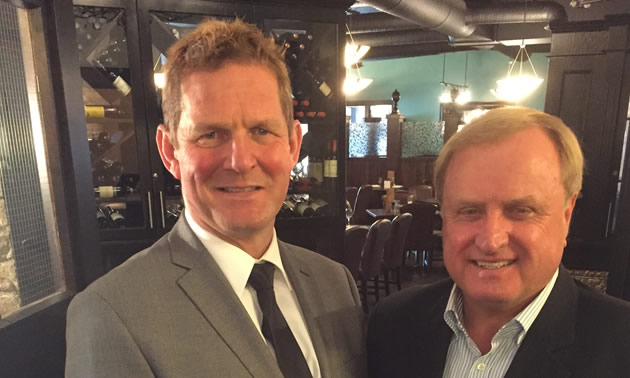 The Honourable Sergio Marchi, CEO of the Canadian Electricity Association, was the recent guest speaker at the monthly Cranbrook Chamber of Commerce luncheon. While in the Cranbrook/Kimberley area Mr. Marchi also toured the Kimberley SunMine facility and met with the mayors of both Kimberley and Cranbrook.
Here are some highlights from his luncheon presentation:
Mr. Marchi spoke about the fact that there are three drivers which are rapidly converging in our sector, and which will shape the relationship between national and local aspirations for the foreseeable future.
1) Infrastructure Investment
First, Canada's electricity sector must invest $350 billion over the next twenty years to renew our aging infrastructure. There's no getting around it --- like in the US, Europe, and Japan, our systems are approaching an end-of-life-cycle. We have an opportunity, in fact, an obligation, to build an electricity grid that will power a very different, rapidly-changing future, for a very long time.
The good news is that the process of grid modernization is well underway. Our members have been investing some $13-14B annually for the last number of years.
We must strive to build the capacity of communities, aboriginal groups, and otherinterested parties to engage, while finding creative means for a more valued broad-based engagement with all Canadians.

2) Sector Evolution
The second driver, is the ongoing evolution of the electricity sector, driven by technology and customer preferences. Traditional business models are evolving. Distribution grids are becoming smarter. New technologies are challenging conventional forms, and they are also empowering. Customers with greater choices. Decarbonization remains a "top of mind" issue.
Moreover, as technology empowers local consumers with greater choice, they increasingly become "partner's" of the utility and not merely clients. They want new services and new tools to conserve energy and more choices about how their electricity is generated.
We have reduced GHG's by 30% since 2005, and will likely do so again by 2030, as much of Canada's fleet of coal-fired generation comes offline. No other industrial sector in our country can boast that emissions trajectory.
Today, electricity powers only 20% of our industrial, commercial, residential and transportation activities. As a society, we must find a strategy to grow that number. If Canada is to achieve a 30% decrease in greenhouse gas emissions by 2030 (an 80% decrease by 2050), and carbon neutrality by about 2070, targets that are very much at the top of the agenda in Ottawa, then we must develop and drive an electrification strategy for Canada.

3) Policy

The final driver, not surprisingly, is politics and policy. Governments – the one in Ottawa and the 13 in provincial and territorial capitals – are pursuing major, transformational policy objectives. If you consider some of the major goals they are trying to achieve as a country, whether it's:
1) Increasing innovation;
2) Developing green sources of energy;
3) Reducing GHG emissions across the economy; 4) Sustainably developing our natural resources; or 5) Growing the middle class, and building a more prosperous life for all Canadians, including our Indigenous Peoples.
All of these are major files, and heavy political lifts. They will also require a shared vision for the future, one that is supported by all three levels of government.
Mr. Marchi concluded his presentation by reminding the audience that energy assets really belong to all Canadians and therefore require a national strategy.

"Energy is a big, big deal for Canada. We must get this process done right," he said in conclusion. "Finding the right balance is imperative, as we stand at a transformative moment in our history."

Mr. Marchi is based in Ottawa.