Business Walk reaches out to Cranbrook enterprises
The Business Walk aims to help foster a prosperous business climate in the City of Cranbrook.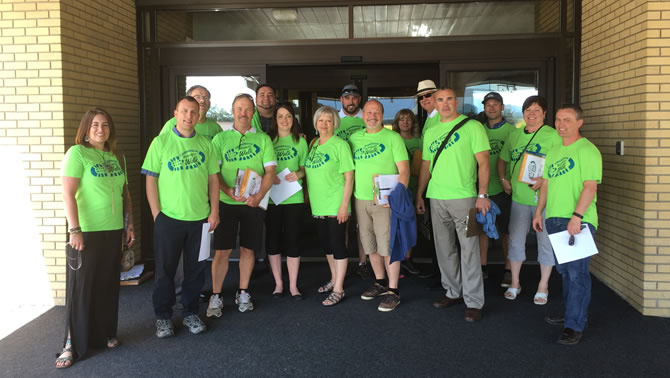 "Come walk in my shoes for a day," is a mantra heard often from owners of small and medium-sized businesses. That is exactly what the Cranbrook Chamber of Commerce recently set out to do by reaching out to visit in-person a number of business managers and owners in Cranbrook.
The first ever Cranbrook Business Walk was held on Tuesday, June 28th, with the help of more than 30 volunteers. Seventeen teams of two visited over 300 businesses throughout all areas of Cranbrook, from downtown to the industrial park.
The Business Walk initiative was supported by the City of Cranbrook Economic Development Office, the Chamber of Commerce, the BC Ministry of Small Business and Development and Community Futures.
The participating teams met at the Heritage Inn for lunch to kick off the walk and concluded at the Prestige Inn later in the afternoon for refreshments. Each team called on about 20 businesses and endeavoured to speak with an owner or manager at that location.
"The purpose of the business walk was to ensure individual business owners and managers have the opportunity to meet with the business and civic leadership officials who have the ability to act on their behalf and to help foster a prosperous business climate in the City of Cranbrook," said David Hull, executive director of the Cranbrook Chamber of Commerce. "The "walk" was also a celebration of local businesses."
He further explained that the Chamber will collate the responses to generate a simple, easy-to-read report that decision makers can use to help strengthen their local businesses. In addition, this information will provide guidance to those within the sphere of influence to affect change to advance our community and make it a great place to conduct business.
As one participating team member said, "I called on business owners I haven't seen in 20 years. It was a lot of fun."
The Cranbrook Chamber hopes to make the Business Walk a yearly event and from the positive feedback received it sounds like it is well on its way to becoming an annual tradition.