Bingay mine site is a possibility
Chinese-owned Centermount Coal to hold open house on proposed new Elk Valley coal mine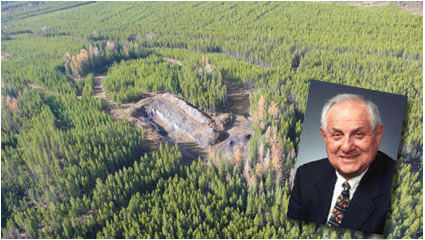 Centermount Coal Ltd. will soon be entering into the feasibility stage with the Bingay Creek mine site north of Elkford.
The Elkford Chamber invites you to a presentation to learn more about the status and scope of the project and the economic and social benefits for the Elk Valley.
When and where: January 24 at 10 a.m., Elkford Motor Inn, 808 Michel
Attending from Centermount:
Jack Austin, President
Ted Nunn, Vice President - Technical Service
Wei Kang - Vice President - Finance
Bryan Edgren - Field Superintendant
Dan Savage - Director Public Relations
Ico de Zwart - Environment
Honourable Jacob (Jack) Austin, P.C., Q.C.
Mr. Austin served as deputy minister of Energy, Mines and Resources, Canada, and chief of staff to Prime Minister Pierre Trudeau. After his elevation to the Senate, he served in the Canadian Cabinets of Prime Minister Trudeau and Prime Minister Paul Martin.
From 1993 to 2000, Mr. Austin served as president of the Canada China Business Council and from 2000 to 2003 as deputy chairman. He assisted in the building of a close relationship for Canada and China in commercial development. He received his law degrees from the University of British Columbia and Harvard Law School and practiced law in Vancouver for over 20 years in trade and commercial law.
RSVP:
Cindy Gallinger, [email protected] or 250-919-2432