BC Hydro supports 2011 Association of Kootenay Boundary Local Government in Kimberley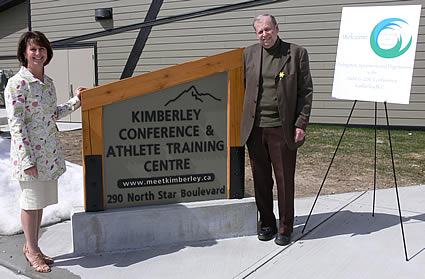 As part of its commitment to building trusted relationships in the community it serves, BC Hydro is once again supporting the Association of Kootenay Boundary Local Government (AKBLG) Annual Conference, hosted this year by the City of Kimberley, April 28 to 30. The theme of this year's conference was "Embracing the Phoenix," focusing on embracing change.
"Embracing change is fundamental to adapting to the environment around us and is the foundation of our regeneration plan of projects and initiatives designed to meet the evolving electricity needs of the region and the province," said Diane Tammen, community relations manager. "The East Kootenay is an important region, with a number of our key regeneration projects, including the Columbia Valley Transmission Project, which will address the growing demand for electricity in the upper Columbia Valley. We look forward to (sharing) more information about what we're doing on behalf of British Columbia and to hearing from our stakeholders as we head into one of the most important investment phases in BC Hydro's 50-year history."
BC Hydro will again be a platinum sponsor this year and Renata Kurschner, BC Hydro's director of generation resource management, spoke on various BC Hydro activities and initiatives.
"We would like to thank BC Hydro for once again supporting the AKBLG at the platinum level. BC Hydro has been a supporter of many initiatives in the area, and we are pleased with its strong commitment to the region," said Kimberley Mayor Jim Ogilvie. During the conference, BC Hydro had an information booth available where delegates could learn more about how BC Hydro plans to use smart meter technology to enhance safety and reliability to reduce electrical theft and provide customers with new conservation tools to help manage their energy use. In addition, delegates who haven't already done so can sign up to become a member of Team Power Smart and make an electricity conservation commitment. Approximately 150 delegates from cities, towns, villages and regional districts in the East and West Kootenay attend the convention each year. For more information about this year's convention, please contact the City of Kimberley at 250-427-5311.