Avalanche knitters
Knitting communities together for avalanche awareness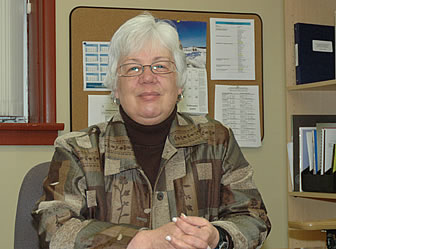 Here is a project that Heaven Stitch and Design and Mary Weselake would like to launch and I am here to encourage all the mayors in the East and West Kootenays to participate.
The plan is to have each town in the Kootenays knit a piece of the scarf with the donations going to the Canadian Avalanche Centre (CAC) in support of avalanche awareness. This could be a fun way to raise money for the cause and get communities working together.
Here is what we would like to do. Each town will start to knit a scarf on February 1, 2011, in a different colour—Fernie will knit with red yarn. Anyone will be able to go into Heaven Stitch and Design in Fernie and knit; the cost would be $1 a row or six rows for $5. They will then sign a participant's card. We will want all participants to use the same wool—knitting worsted with a gauge of 18 stitches x 24 rows equals four inches on five-millimetre or #6 CDN or #8 U.S.A. knitting needles. Find a place in your community that can be a gathering spot for people to knit. We will continue this project for the month of February with all the money raised going to the CAC.
The challenge that I am putting out there is to see which community can knit the longest piece. At the end of February each town will then send their scarf to Fernie, volunteers will then stitch the pieces together to see how long the scarf is. The world record is 33 miles. Fernie will display the scarf for a week before we send the card, donations and scarf to the CAC in Revelstoke.
I am challenging Sparwood, Elkford, Golden, Kimberley, Cranbrook, Nelson, Revelstoke, Rossland, Valemount and Invermere because you all participate in Avalanche Awareness Days in one way or another. Let me know what colour yarn you want to use so we can make this a very colourful scarf that identifies each community. Mary has some wool that was donated and is available for this project. Please call me at 250-278-0481 or email [email protected] to sign on to the challenge.
Let's wrap a scarf around the Kootenays. Come join the fun and help save lives.