Arctic Powerline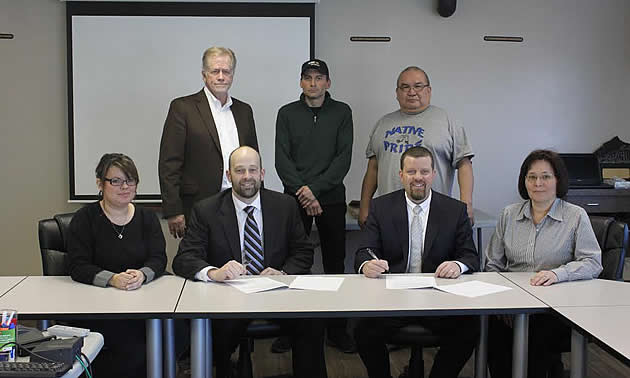 On March 13, 2014 Ɂaq'am Community Enterprises (ACE), the development corporation of the St. Mary's Indian Band and Arctic Arrow Powerline Group signed a Memorandum of Understanding that will change the future of economic development for the St. Mary's Band.
"The Memorandum of Understanding has created a strong relationship between Arctic Arrow Powerline Group and (ACE). It will be through the Memorandum that ACE will begin its venture into economic development in the energy sector. This MOU will result in increased capacity and learning opportunities for ACE, and for the community," said Chief Jim Whitehead of St. Mary's Band.
Discussions began last fall in Sparwood, BC, and continued through the New Year. Both parties met regularly to discuss potential impact, both positive and negative, of creating a partnership. After months of discussions, the two parties agreed to sign the Memorandum of Understanding.
"We were in discussions for approximately six months. We were taking our time because we were enjoying learning about one another's organizations. It was clear from the beginning that Arctic Arrow Powerline Group and ACE was a good fit. After gaining an understanding of who the Ɂaq'am team, it was clear that our organizations shared very similar core goals and values." said Mike Honeyman, Regional Manager for Arctic Arrow Powerline Group.
Both organizations shared similar excitement about the new relationship. ACE is anticipating creating more business relationships similar to the one created with Arctic Arrow.
"Arctic Arrow stood out to us for its local reputation and return to local economy. They have been established in Ktunaxa territory, with a positive reputation, for over 30 years. They work locally, they hire locally, and their employees spend locally. We want to support that and hope to develop more relationships like this, with more local companies", stated Becky Pelkonen, Director of Community & Economic Development.
In addition to the MOU with St. Mary's Indian Band, Arctic Arrow has just signed a Letter of Understanding (LOU) with the Ktunaxa Nation Council. The LOU is Arctic Arrow and the Ktunaxa Nation's promise to work together to support the employment of Ktunaxa citizens in the energy sector.
To learn more about business development opportunities with St. Mary's Band, contact Becky Pelkonen, at (250) 426-5717 ext. 3543, or by email.