AM Ford busy rolling out Automotive Safetivity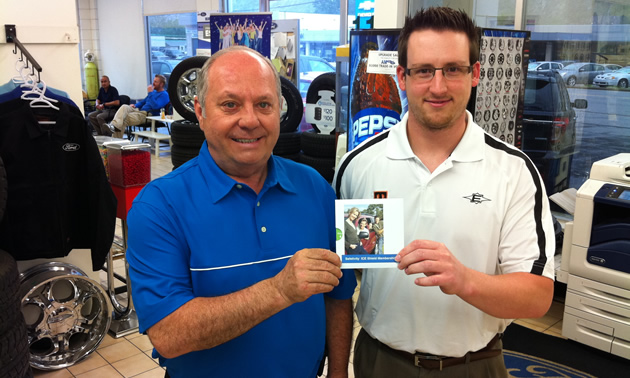 Dan Ashman, dealer principal of AM Ford in Trail, and Mike Boisvert, project manager at ACG Global in Trail have been busy these days rolling out their new 4 in 1 family protection program called Automotive Safetivity.
The innovative program provides automobile buyers with four comprehensive services when combined together can provide round-the-clock protection for its members. The four features include...
1) ICE Health Records — ICE stands for in case of emergency and it allows for control and access of your personal health records, which helps manage your health records which can be critical in a medical emergency. Most of the information you enter into your ICE Health Record account will be fully accessible to first responders. Though you can specify exactly what information you wish to reveal or not to first responders.
2) Identity Theft Protection — If you are a victim of ID theft Safetivity's certified resolution specialists will do all the work required to return your identity to pre-theft status. With one phone call you will be assigned a certified resolution specialist who will remain with you for the duration the restoration.
3) Private eVault — A part of the Safetivity package you receive a personal and secure online information management tool designed to organize and store your most important personal documents — giving you instant access to them anywhere in the world. You will also receive a convenient and free smart phone app to view and upload your documents right from your phone. Once inside the eVault you will be able to customize the tab labels and upload important documents. You also have the option of creating a limited access account(s) for others to access certain parts of your eVault.
4) Missing Person Alerts — The Safetivity system has the ability to instantly create a missing person flyer from the identifying information contained in your account. The flyer can be electronically shared with law enforcement, search and rescue and others and printed for distribution.
The Safetivity program is designed to help you live safer and with true peace of mind. The site is protected with 256K SSL encryption to ensure your privacy. The Safetivity program is available through AM Ford and is offered a part of new or used vehicle purchase at the dealership. Ask your representative to all the details.
Visit Safetivity for more information or call 1 877 364 2333.