AirSprint – a private fractional ownership jet service now landing at Fairmont airport
The airline has announced 30-minute flights from Calgary to Fairmont Hot Springs or 43-minute flights from Edmonton to Fairmont.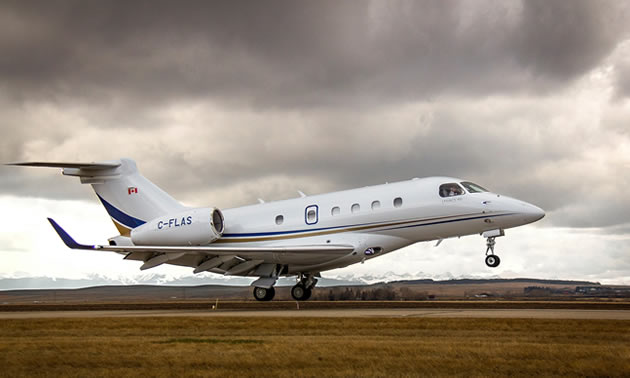 A private fractional ownership jet service using the Embraer Legacy 450 jet, is now offering flight service to the Fairmont airport in the Columbia Valley.
In an ad targeted at well-heeled Calgarian and Edmontonians who vacation or weekend in the Columbia Valley and a tagline that reads "Spend more time at the lake this summer" --- AirSprint, a privately owned fractional ownership jet company based out of Calgary, has announced 30-minute flights from Calgary to Fairmont Hot Springs or 43-minute flights from Edmonton to Fairmont.
AirSprint states on their website, "We know when the weekend comes you can't wait to get to the lake! Imagine - getting there in a fraction of the time it would take to drive. When you fly with AirSprint, you can expect a consistent, turn-key experience. You're an Owner and will be treated like one. Your Personal Flight Coordinator can look after all of your travel needs. With guaranteed access to your aircraft with a little as 8 hours* notice, and service to Fairmont, Springbank, Calgary and thousands of airports throughout North America, going to the lake has never been easier!"
AirSprint offers programs designed for personal and business requirements. Ownership starts at a minimum of 25 hours (3.125%) and is available in increasing 25 hour increments as desired. AirSprint flies to the Fairmont Hot Springs airport on demand.
With the call letters CYCZ, Fairmont Hot Springs airport is a 6,000-foot all-weather airport facility that welcomes all aircraft up to and including Boeing 737s.
About AirSprint
AirSprint is a privately held company based in Calgary, AB and maintains the largest fractional fleet of private aircraft in Canada, including the Embraer Legacy 450, serving Canadians from coast-to-coast including, Vancouver, Calgary, Edmonton, Winnipeg, Toronto, Ottawa, Montreal and the Maritimes. AirSprint provides successful Canadians with a better choice for optimizing their time by enhancing the private jet ownership experience with industry leading safety standards, exceptional turnkey service, and increased flexibility, all at a fraction of the cost, and personalized for their individual travel needs. For more information visit AirSprint.com
About the Legacy 450
The Legacy 450 is a mid-light business jet with a best-in-class 6-foot-tall flat-floor cabin. Four fully reclining club seats may be berthed into two beds for complete rest in a 6,000-foot cabin altitude. The optional in-flight entertainment system consists of a high-definition video system, surround sound, and multiple audio and video input options. Voice and data communications options are also available. The cabin includes a refreshment center at the entrance, a rear private lavatory with a vacuum toilet and an in-flight-accessible baggage area. The total baggage space is the largest in the aircraft's category.
The Legacy 450 is the first business aircraft in its segment with full fly-by-wire technology, featuring side-stick flight controls, the state-of-the-art Rockwell Collins Pro Line Fusion avionics suite with four 15.1-inch high-resolution LCD displays, and paperless operations capability, with graphical flight planning, Jeppesen charts and maps and a synthetic vision system. The optional Embraer Enhanced Vision System (E2VS) features a Head-up Display (HUD) and an Enhanced Video System (EVS). The Legacy 450 is powered by two advanced, fuel-efficient Honeywell HTF 7500E turbofan engines, the greenest in their class. With four passengers and NBAA IFR Reserves, the Legacy 450 is capable of flying 2,900 nm (5,371 km), which enables non-stop flights from San Francisco to Honolulu, São Paulo to Bogotá, Moscow to Mumbai, New Delhi to Singapore, Singapore to Beijing, Beijing to Kuala Lumpur, or Hong Kong to Alice Springs.