2016 Influential Women in Business Awards
Awards luncheons were held in Cranbrook and Nelson to recognize outstanding women in business.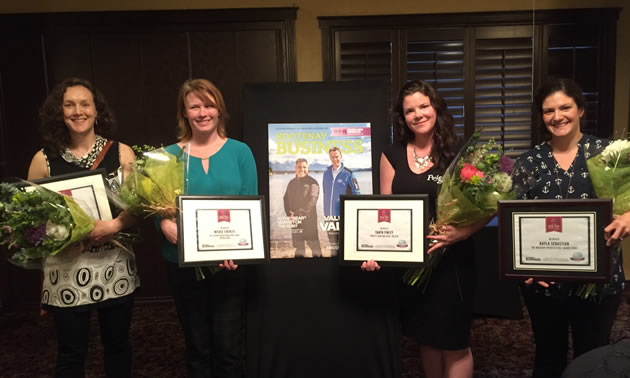 Kootenay Business wrapped up the 2016 Influential Women in Business Awards on Thursday, June 2nd in Nelson. Over 80 attendees gathered at the Prestige Lakeside Resort in Nelson to listen to guest speaker Michelle Mungall, Nelson/Creston MLA and an informative panel discussion on business success and mentorship. The panelists were Gina Ironmonger of Keystone Appraisals, Val Semeniuk, Kootenai Moon Home Store and Terry Van Horn of ICIC.
The Nelson luncheon mirrored a similar event held in Cranbrook the week before on May 28th which featured guest speaker, Karin Penner, former manager of the Cranbrook Chamber of Commerce and a lively panel discussion as well. The panel consisted of Melissa Hambalek, Initial Designs, Megan Lescanic, Bumble Tree and Rajean Grainger, Scotiabank, Cranbrook.
Here is a list of the Influential Women in Business recipients in the Kootenays for 2016:
West Kootenay
Mary Austin, Austin Engineering—Trail
Nicole Cherlet, Big Mountain Kitchen and Linen—Revelstoke
Tanya Finley, Finley's Bar and Grill—Nelson
Kayla Sebastian, Wood Spoon Bistro—Grand Forks
East Kootenay
Jenna Woods, Fernie Realty—Fernie
Sarah Adamson, Fuze Foods—Invermere
Pat Ridler, Pages Books Emporium—Cranbrook

Congratulations to all the nominees and the award winners. Kootenay Business is pleased to recognize the outstanding women owning, operating and managing successful businesses throughout the Kootenay region.