The apple of New Denver's eye
The Apple Tree restaurant reflects a uniquely West Kootenay ambience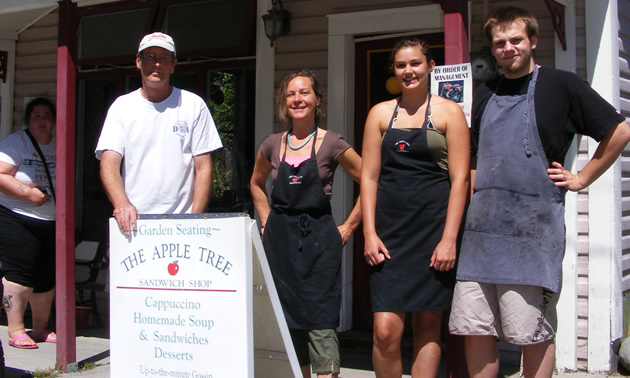 Kootenay Business caught up with Rob Ochsendorf who, for the past 25 years and counting, has been running the Apple Tree restaurant on New Denver's main street. In our July Best Places to Eat and Drink Awards (voted by our readers), the Apple Tree won a silver award in the Business Lunch Place category for small towns in the West Kootenay. Whether people drop in to the Apple Tree for business or for pleasure, Ochsendorf feels the popular eatery is a reflection of the town he lives in. He was pleased to answer our questions.
The Apple Tree won a silver award from Kootenay Business magazine. What makes it a great gathering place for the locals of New Denver?
I think that it is partly historical. We have been here for quite a while and people know what to expect. We have always tried to put out a quality product at reasonable prices in a small amount of time. The cozy, homey atmosphere—some would say funky—increases folks' sense of ease and comfort. Humour helps!
What's the most challenging aspect of running a restaurant?
One is being able to find good products at a good price. Two, finding enough summer staff. Maintaining energy levels can be difficult in the intense period. It is "showtime" when we are open.
What's the most rewarding part of the business?
Ongoing relationships with former and present co-workers. I've worked with some awfully amazing individuals—(it's) fun to watch their life changes and careers develop.
How long has the restaurant been operating, and how long have you owned it? What did you do before you took over the restaurant?
The Apple Tree has been operating for 29 years; I have owned and operated it for 25 or 26 of those. I worked as a social worker for the provincial government in a previous life.
Does the restaurant have a favourite, or "signature," item on the menu? Any special drinks?
Two signature items are the breakfast bagel and our famous blueberry muffins. I believe I've made over 400,000 muffins. I believe the Vienna Cafe in Nelson had the first espresso machine in the Kootenays; we had the second.
Has the Apple Tree changed or evolved over the years and, if so, in what way?
The Tree started as just a small local restaurant which my partner and I took over. It has evolved not as planned, but in its own way. The community itself drives its changes.
What's the most fun dish you've ever cooked?
Breakfast for a film crew and cast (the movie was Hakujin: The War Between Us), when the caterers were passed out on the floor of the catering truck. There were a lot of lattes made by the director and producer that day.
What's the most elaborate meal you've ever prepared?
Indonesian rijstaffel. (Wikipedia defines rijstaffel as an elaborate meal adapted by the Dutch from the Indonesian feast called "nasi padang." It consists of as many as 40 side dishes served in small portions accompanied by rice prepared in several ways.)
Do you have a business philosophy that you could condense into a sentence or two?
It's only business, it's nothing serious, it'll be fine.
If you wouldn't eat it, don't serve it.
In your down time (if you have any down time), what do you like to do?
Riding my motorcycle, sailing, hangin' out with Linda and the dogs—not necessarily in that order.
What makes New Denver a fabulous place to live and run a business?
It's a town of wonderfully strange, artistic, intelligent, capable and caring people. I fit in the strange category.
You've published a cookbook (Recipes and Rapscallions: Culinary and Other Secrets from the Apple Tree Sandwich Shop) that went into a second printing. (That printing has sold out). Do you have plans to publish another? If so, what new recipes can people expect?
The book was published by Bill Finley, authored by Gary Wright, photographed by Patrizia Menton—all (at that time) part of the above-mentioned fabulous place to live. A second book has been discussed. It would include recipes from Panini Bistro, Linda Norman's restaurant, new recipes from the Apple Tree and recipes I forgot to include in the first book—oops!
Anything else you'd like to add?
The Apple Tree would not exist today were it not for the community I live in. The kindness of friends, the commitment of co-workers, everyone's help, generosity and support are at least as much the story of our success as me showing up for work every morning. A community defines its restaurant as a restaurant defines its community.