New name, new staff, same location
At Harmony Hair and Day Spa in Kimberley, what the customer wants comes first and foremost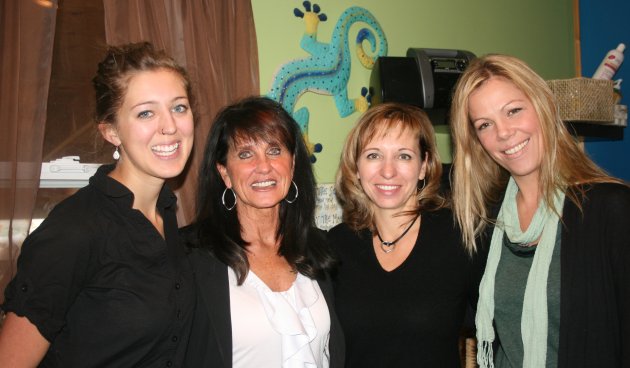 Hairstylist and home-based business owner Pat Johnson has established a loyal clientele in Kimberley over the past 15 years. Recently, she has expanded the services she offers with the addition of three new staff members: Elli Gillen, a registered massage therapist; Jesse Robertson, an esthetician who also does hairstyling; and licensed manicurist/nail technician Lori Crowther. To reflect the expanded range of her services, Johnson has also changed the name of the business. The former Have Scissors, Will Travel is now called Harmony Hair and Day Spa, but is still in the same location, at 352 Oughtred Street. Johnson took a moment between clients to talk to Kootenay Business.
What gives you the greatest job satisfaction?
My greatest satisfaction is just my clients, of course--when they leave, to see the smiles on their faces. One thing that makes myself different is that we only do one client at a time. It's so nice to be here by yourself. They're so relaxed--not pressured because there's another client waiting.
Where do you envision the business will be five years from now?
Well, I still hope to be doing this, which I know I will be . . . I don' t want to get any larger . . . just being exactly where I am here, right now, doing the same thing, just with a few more people coming through the door.
When you were a kid, what did you want to be when you grew up?
(Becoming a hairstylist) was a passion of mine when I was about 14 years old. And I got into it about 20 years ago. I'd always done my boys' hair and friends' hair for the last 30-some odd years. A lifestyle change (a separation, followed by a divorce) made me say, 'I'll do it!'
Knowing what you know now, what career advice can you offer?
Customer service--I just can't stress it enough (for) the girls that are coming out right now. It's not what you think they should have, it's what they want. We don't tend to listen enough.
What do you do when you're not styling hair?
I work weekends at the ski hill. I've been up there for 32 years. I find when you have a home-based business it's so nice to get out of the house. In wintertime, I work seven days a week!