A central part of the community
Ktunaxa Nation Council chair Kathryn Teneese is all about building relationships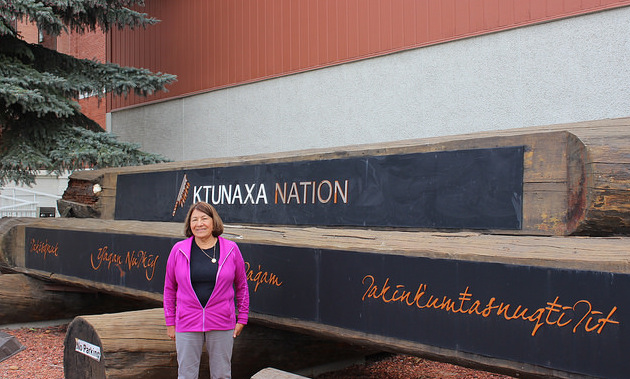 With such a wide-ranging job, "I have to be fairly nimble," Ktunaxa Nation Council chair and chief negotiator Kathryn Teneese told Kootenay Business magazine.
Talk about an understatement! One day, Teneese might be involved in court action around the proposed Jumbo Glacier development. Another day, she might be deep in treaty negotiations or in the environmental assessment process for mining proposals in the region. Or she might be acting as a Ktunaxa ambassador, greeting delegates from Cranbrook's sister city in China, for example.
Then there's the routine office treadmill of responding to emails and queries, drafting letters of support as needed, and attending meetings, meetings and more meetings.
Plus, "I do a lot of my own research so I'm up to speed," said Teneese.
But the common thread in Teneese's diverse workload is her desire for people to see the Ktunaxa Nation as part and parcel of the wider community.
"We haven't gone anywhere, we're still here and we'll be here for a long time," she said.
Teneese said her proudest work-related achievement is "the fact that the Ktunaxa Nation was able to purchase the building we're in." Teneese was referring to the old Central School building in Cranbrook, which now houses Ktunaxa offices and has space for a proposed museum.
She said it isn't the physical building itself that makes her proud, but rather what it symbolizes.
"It's symbolic of the fact that we do contribute to the region," she said. "It's a very visible presence in the largest municipality in our territory—Cranbrook—on land which was once a Ktunaxa village."
Her office space also represents a coming home of sorts. "Actually, the building that is presently our office is where I attended elementary school," said Teneese, who was born and raised in the St. Mary's—now Aq'am—community.
Teneese noted that the Ktunaxa Nation is a significant employer in the area, employing both Ktunaxa and non-aboriginal specialist staff in such areas as biology, archeology and the social service sector.
She also said that many Ktunaxa initiatives serve both aboriginal and non-aboriginal people, including the Street Angels program (which offers meals, computer access and much more to those in need), Scotty's House (which provides accommodation for vulnerable adults who have aged out of the child welfare system), and the Aq'am school and daycare.
Teneese said the Ktunaxa have "a really good working relationship with the College of the Rockies. The aboriginal gathering place is now a reality, and a Ktunaxa citizen is a member of the college board of governors."
And long-time aboriginal businesses such as the Tobacco Plains duty-free shop are doing very well, she said.
Teneese welcomes cultural tourism projects, too. For example, she said the Ktunaxa Nation is interested in repatriating Ktunaxa artifacts from the Royal BC Museum in Victoria, and she keeps in touch with other museums across Canada.
Meanwhile, an annual charity golf tournament the third Thursday in June supports traditional knowledge and language projects, including the interpretive centre at St. Eugene Mission & Golf Resort. "We continue to search for ways to make it (the interpretive centre) more accessible," Teneese said.
She is also keen on incorporating Ktunaxa history into the education system. "There was a history before contact. It didn't start when David Thompson came here," she said.
At the same time, she said the Ktunaxa don't want to be "frozen in time."
"We're alive and well," she said. "We don't want to be thought of in the past tense but as living in the present."
Teneese said the Ktunaxa Nation is open to meeting with people who want to know more about the community and its culture.
"Educating the public is really one by one. We're always more than willing to speak with people as a group or individually to tell our story," she said.