Citizen of the Year celebrated
Cranbrook's newest Citizen of the Year, Frank Vanden Broek, receives kudos from his community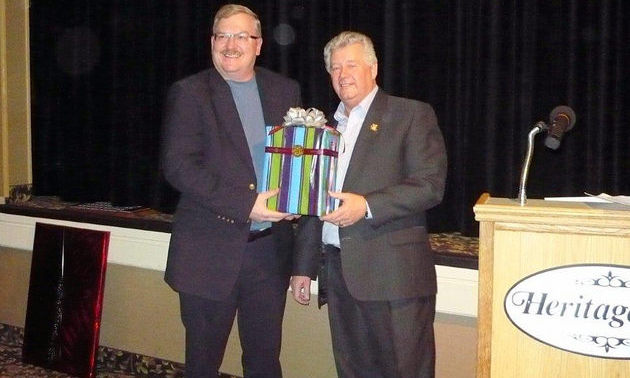 Cranbrook residents might know Frank Vanden Broek for his work at Sunlife Financial. Or they might know him as the former operator of the Juniper Lanes bowling alley. And they might well know him as a long­time Rotarian.
Now they also know him as Cranbrook's 2015 Citizen of the Year, as the business, political and volunteer community gathered to honour Vanden Broek at a gala event January 29th at the Heritage Inn.
"Frank is the embodiment of what makes a small town great," said David Hull, executive director of the Cranbrook Chamber of Commerce.
"A great place to work and play is also a great place to do business," Hull added.
Mark Dickson, branch manager at Sunlife Financial in Cranbrook, described Vanden Broek as "a solid guy, a man who shoots from the hip but is also caring, and truly puts his clients first." Daryl Richardson from the Cranbrook Sunrise Rotary Club said that Vanden Broek lives up to the Rotary motto, "service above self."
Trent Taylor, president of Sunrise Rotary, said, "Frank joined Rotary 15 years ago and we've been busy ever since!"
Mayor Lee Pratt praised Vanden Broek for his exceptional spirit of volunteerism. Vanden Broek's volunteer participation has ranged from local to international, including the Paint the Train project and the Gran Fondo bicycle event in Cranbrook, as well as efforts to create a polio-­free world. Another charitable cause close to his heart is juvenile diabetes.
Several Rotary youth exchange students praised Vanden Broek via email and video link, one of them referring to his "altruistic soul."
As for Vanden Broek himself, he credited his parents for instilling that spirit of volunteerism in him, and thanked them for "setting the example."
Vanden Broek concluded the evening with a quote from his mom: "It's far better to help others than to have to ask others for help."