Making a connection with man's best friend
Jeanne Shaw uses her experience as a teacher and her passion for pets to help people understand what their dogs are telling them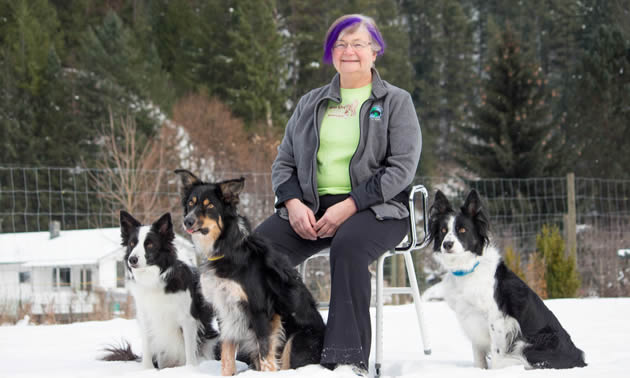 Communication is key in any relationship, but what if your language is foreign and vastly non-verbal? Imagine the frustration.
Enter Jeanne Shaw. A professional dog trainer in Crescent Valley, B.C., Shaw's career is based on helping people better understand their pets—and there are a number of ways her business, Love 2 Play Dog Training, does this.
"We offer puppy classes and basic to advanced manners classes," said Shaw. "We teach different levels of competitive obedience and rally obedience. We do dog sports classes and in the summer we focus on the sport of agility, which is where dogs will go over jumps, through tunnels, weaves and over A-frames."
Year-round, Shaw teaches canine scent detection where dogs use their noses to find a specific odour. She also offers canine conditioning for sports dogs, and musical freestyle, which is a combination of tricks and heelwork. There are five certified instructors at Love 2 Play Dog Training, and according to Shaw, they have a hard time keeping up.
"What's interesting is that basically in 10 years, we have outgrown the building I built and have outgrown the number of people teaching," said Shaw.
Growing in leaps and bounds
Love 2 Play Dog Training began in 2007 while Shaw was still in her previous role as a teacher of deaf and hard of hearing students. What started as a hobby became a full-time profession.
"I had no intention of becoming a dog trainer—I was enjoying training my own dog," she said. "But because of all the workshops, seminars and courses I had taken, people started asking to teach them what I was learning. They decided I needed to get paid and at that point, in 2007, I had to start a business because I was earning income."
As soon as she retired from the school district in 2010, her business took off. Now, Love 2 Play Dog Training is being asked to do more than it can—and it's not just dog owners who are making the requests.
"We just did a therapy dog day at Selkirk College during exams, which was very rewarding," said Shaw.
According to her, there are a number of colleges that are bringing in therapy dogs during exam time to help the students relax. One of Shaw's therapy dogs also attended a reading group at the school library in Castlegar. Similar requests from other schools in the Kootenays have also been made.
"We just don't have enough dogs because the dog has to be pretty much bomb-proof," said Shaw. "The evaluation is very strict."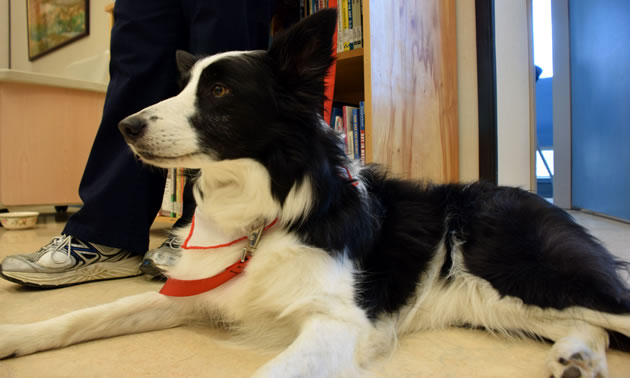 The benefits of being around dogs
The science on how petting a dog lowers blood pressure and relieves stress is readily available, but there are other, more obvious effects that Shaw has experienced with therapy dogs.
"In one situation, there was somebody who was in a long-term care facility in Castlegar and that person had never spoken since arriving at the facility and they spoke to the dog," she said.
Whether it's teaching people and their dogs or training her own border collies, Shaw finds her work very rewarding.
"I am very passionate about everything about dogs," she said. "It's all about communication so I'm passionate about people being able to understand dogs because when you understand what your dog is saying, your dog goes, 'Oh, you get it. You understand me.' And that's when you can begin to have a deeper communication, as well as a connection and co-operation with your dog."
Making a connection with those that cannot talk is what Shaw does best.