Fun things to do with your dog that you've probably never heard of
Here are some ways you can have fun with your dog that will be of benefit to both you and your canine friend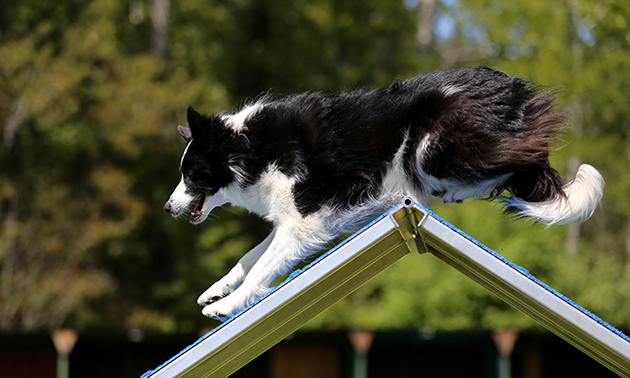 As a responsible pet owner, you know how important it is to provide daily exercise for your dog, but what if you are getting bored with the same old walk around the block? Turns out your furry friend might feel the same way.
According to Jeanne Shaw, who is the owner of Love 2 Play Dog Training in Crescent Valley, dogs need mental stimulation in addition to physical exercise in order to stay happy and healthy.
With that in mind, here are some fun ways to bring mental challenges into your dog's life (spoiler alert, they're good for you too).
Nosework
Inspired by working detection dogs, canine scent detection or nosework is an easy to learn activity that allows your dog to express his or her natural inclination to hunt or scavenge. Once the dog has mastered searching out common odors, such as food or toys, handlers will move to more complex scents and scenarios. Nosework can be done anywhere, and according to Shaw, just 10 minutes of sniffing will have your dog ready for a snooze.
Musical freestyle
Also known as dancing with dogs, musical freestyle combines tricks and heelwork that is usually choreographed to a song. A great deal of creativity comes into play, and some handlers will even set up their routine like a play, telling a story with steps and tricks. It is highly entertaining for an audience and helps to build a strong relationship with your dog.
Obedience classes
Whether you have a puppy or an adult, an obedience class will work your dog's mind and help prevent behavioral issues from forming. But how much fun can walking in a straight line, snapping the choke chain every once in awhile, really be? Well, according to Shaw, that's a misconception. Today's obedience classes focus more on teaching your dog through positive reinforcement than through force and correction..
"That's not how we teach it," she said. "And rally obedience is a competitive sport where fun is as important as correct behaviours."
Agility
Agility is another dog sport that brings both the physical and mental aspect into play. It involves the handler directing his or her dog through a set of obstacles, including jumps and tunnels. Dogs need to be aware of their bodies and the equipment, but at the same time, Shaw said, they are getting to run and play.
What about your mental well-being—does it seem like another chore to incorporate any of the above doggy-related activities into your life? If so, you're not alone.
I had somebody who wasn't keen on an obedience class, said Shaw, but after her third class, she said 'Wow, if I had known how much fun it was to come to obedience class, I would have done it months ago.'
Doing interesting things with your dog can also relieve the stress and anxiety of a busy day.
"If I have a bad day, I go and train my dog for five minutes after and it's like a meditation because I have to focus on me and the dog and communicating with this other species so it helps me let go of the other stuff," said Shaw. "People who come to dog classes have also said, 'I had this horrible day but I've forgotten about it because I've just been working with my dog—doing agility, nosework, music freestyle, whatever, for an hour. It's exercise for me, my brain and exercise for my dog.' "
There are several evening and weekend classes offered by Love 2 Play Dog Training. For more information, see the website.