Keep your head in the clouds with this new phone system
The cloud phone system uses computer technology to manage calls, voicemail and much more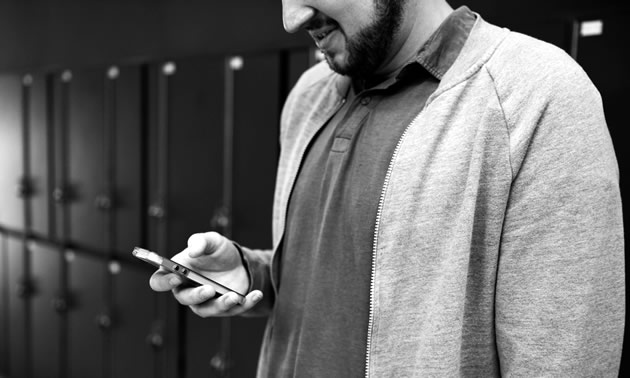 Technology can sometimes seem scary and only accessible to large businesses with internal IT staff. However, there are many aspects of new technology that are advantageous to businesses regardless of size or industry. One of these is the cloud.
We talked to Ryan Doehle, CEO at Isosceles, which has offices in Cranbrook and Fernie, to find out the specifics of cloud phones. Doehle explained everything to us in plain English, and without any of that annoying technical jargon.
Reliable phone systems are essential to any business, regardless of size, location or industry, and with advances in technology, we are now seeing the next evolution of the phone—cloud phones. "The beauty of using the cloud in any capacity is that smaller businesses can take advantage of scalability, technology and functionality that would have previously been inaccessible," said Doehle.
So what is a cloud phone system?
Where traditional phone systems are based in hardware located on site, a cloud-based system, often referred to as Voice Over Internet Protocol (VOIP), uses computer technology housed in a specialist off-site location to manage calls, voicemail and other functions.
"From a financial perspective, using the cloud means that you can forget about the high up-front investment and maintenance costs you have with traditional systems," said Doehle. "You get more features than you can imagine, have them managed by a simple app-based user interface, and it will cost you a fraction of what something similar may have cost even just a few years ago.
"The real benefit that we see is the ability for smaller businesses to present themselves with a level of professionalism that would have previously been out of reach."
In a cloud phone system, line extensions are easy to set up so each of your employees can have their own direct phone number, whilst also linked to the central business phone number (even if they're located across the country); the call costs are very low and can sometimes be non-existent.
"This means the call gets to the right person, every time," Doehle said. "No more games of phone-tag, or pass-the-call. If someone is out of the office, that's not a problem as calls can be forwarded to an app on a cell, so you can be working from home, picking up the kids or on the deck at the lake, and maintain that streamlined and professional experience for your customers as the phone number they are using to contact you remains the same."
Cloud services typically run at almost 100 per cent up-time so any worries about service outages can be forgotten these days.
"Like other cloud services, such as hosted exchange or offsite backup, a cloud phone system allows you to have all the 'big business' features, for an on-going small monthly fee, making it ideal for a small business," Doehle said. "With no upfront cost, and a quick setup, cloud phone systems can be up and running within a day with no interruptions or downtime so not even a single call would be missed.
"Cloud phones make sense and are available to any business these days. We recommend trying to shop local. If you select a supplier that has extensive experience in IT services to ensure the setup process is well managed, you can't go wrong."