Every day is an adventure
We sat down with Chris Ryman of Endless Adventure to learn more about his life—both on and off the water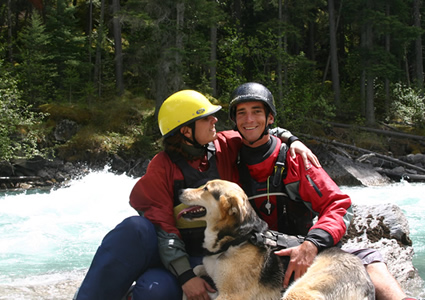 Winner at a Glance: Endless Adventure
Website: www.endlessadventure.ca
Years in business: 7
Owners: Andrea Miller and Chris Ryman (married)
Community involvement: When we first came into the area, we noticed there weren't a whole lot of youth or female paddlers, so for one, we started a 'Women on the Water' paddle night—every Tuesday night, a bunch of women get together and go out on the river with female instructors. Andrea is one of the instructors for this.
I work a lot with youth. I have a youth development program where I train youth to kayak and compete in events, whether it be racing or freestyle. I also have a youth development program in Ecuador (Endless Adventure has a location in Ecuador, where Ryman and Miller spend the winter).
I'm also the B.C. ambassador for the World Kayak Initiative, which is a global group whose mandate is to increase the number of kayakers. I'm also the British Columbia Freestyle Kayak representative—which means I train Canadian athletes hoping to compete in the Worlds.
Andrea and I do a lot of work with the Endangered Creeks Expedition, where we're focused on raising awareness of beautiful river canyons that may be subject to independent power production. We raise awareness through media, photos and videos to show the insides of these canyons that not many people can explore.
Downtime activities: A lot of it takes place in the river, as you can imagine. Andrea and I have gotten into standup paddling, which is lots of fun. We also do a bit of kayak fishing, hiking, camping and floating in general. River snorkelling is also a really fun event once the Slocan River gets warm enough.
Favourite Kootenay getaway: Driving up the Slocan Valley and going up to Nakusp area hot springs.
Must-reads: The Laugh of the Water Nymph by Doug Ammons. He is a really great writer and kayaker and writes a lot about whitewater philosophy. Also, The Celestine Prophecy by James Redfield.
First job: I was involved with landscaping (basically cutting grass) from a young age to make money for the water toys I wanted. Andrea worked in a grocery store.
Lessons along the way: We've learned that good people and a strong community are your greatest assets in life and in business. So we surrounded ourselves with great people and the possibilities have been endless. Another one is to work hard, play harder and make time for date night!
Who inspires you: Our clients and guests. We have the privilege of meeting some amazing people. They usually come to us wanting to challenge themselves in new ways or face the fears they might have. On a daily basis, we get to see people overcome these obstacles and triumph. It's very rewarding when you can see it in their eyes when they achieve their goals.
Favourite river: The Slocan River is probably the best river to learn how to kayak—and also, you have the opportunity to spend the day just floating and enjoying the scenery. The Slocan River is clean, it's got that beautiful emerald colour, and the wildlife is abundant.
Kootenay Business had a great time getting to know some of our Best of Business award winners! For a full list of award winners, please check out our Best of Business section.