Drones: Ready for takeoff in the Kootenays
That black speck you see in the sky may not be just another raven.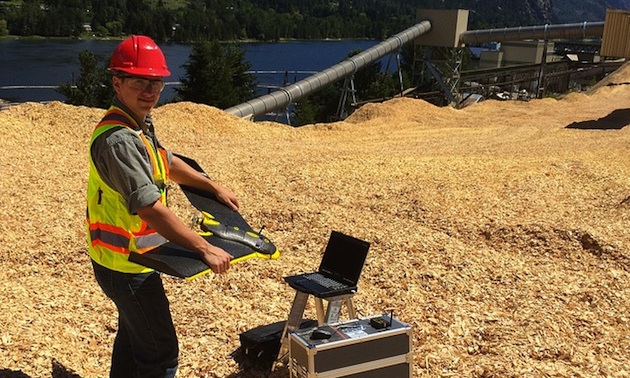 What if a prospector carried not a pick and shovel but a piece of technology that looks like a miniature airplane or helicopter? What if a farmer could tell his plants were stressed two weeks before the leaves started wilting? That future is already here, and Harrier Aerial Surveys in Nelson is providing a service that has nearly endless applications in all kinds of industries.
"One of our major first contracts was with local industry at Celgar pulp mill, calculating the volume of their chip pile," said Peter LeCouffe, 25, who started up Harrier Aerial Surveys with professional engineer Robert Simmerling in 2014. "Traditional land surveyors would walk around and go up and down the chip pile for eight hours and pick up 1500 points or so. Once we were set up, in 15 minutes we fly that pile to get three and a half million points.
"Because today's cameras are such high resolution and (with) the software we have now, I can calculate the three-dimensional co-ordinates of every pixel in the image."
What it means for mining
In resource-rich British Columbia, mining companies are using drones for everything from mapping to mineral exploration to tracking stockpiles. Valuable information can lead to better decision-making, LeCouffe explained.
"Like with the open pit mines," said LeCouffe, "it is very beneficial to have accurate terrain models for detailed design and planning purposes, followed by day-to-day aerial surveys to know how much material has been removed."
Just how can a drone-mounted camera tell if there's gold in the hills?
"Multispectral imagery," said LeCouffe. "The sensor is seeing outside the human eye's red, green and blue bands and further into the electromagnetic spectrum. Different ore bodies will have different spectral signatures, so with computer processing we can potentially figure out where those ore bodies may lie."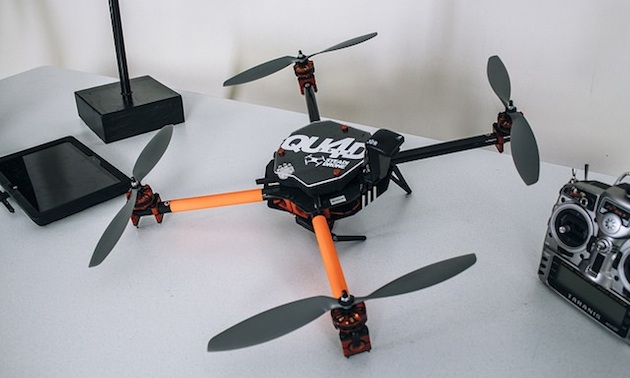 Meet the drones
The company is named for both the northern harrier hawk and the Harrier Jump Jet, a military aircraft that can take off vertically. Harrier flies two different unmanned aerial vehicles (UAVs): one that resembles a fixed-wing airplane and one that looks like a spider with four little propellers attached. They were manufactured in Switzerland and South Africa and require quite a bit of training to get airborne.
"It's stable," LeCouffe said about the quad copter. "It's got four different rotors and the payload is mounted in the centre. For mapping purposes we mount a camera facing straight down and fly grid patterns to collect overlapping photos of the area of interest. Or we have a gimbal mounted to the front for getting into close areas and taking photographs and video for inspection purposes.
"It travels vertically as well as horizontally," LeCouffe said. "So we can hover around and we can get into tighter spots than we could with the plane. And we can get into spots that you wouldn't necessarily want to send somebody to go and take a look. So whether it's environmental hazards or just height, fall hazards, whatnot, we can get in there."
A drone "bridges the gap between traditional surveyors and full-size aircraft," LeCouffe said. "Areas that full-size aircraft can't get in, or scales that you wouldn't want to hire a full plane to go in and fly . . . that's where we'd come in. And then in areas where either surveyors don't want to go, like swamps and marshes, or if it's an area just larger than a surveyor can efficiently cover with traditional methods, we may be more economical."
Drones and the law
It's not all fun and flying. LeCouffe has an environmental technology diploma from Camosun College and an advanced GIS diploma from Selkirk College and is working on a bachelor degree in the field. In addition, a drone operator flying for profit anywhere in Canada needs a license called a Special Flight Operator's Certificate.
"You have to cover all kinds of things like the vehicle's specifications, the purpose of the flights, the location of the flights and emergency procedures," said LeCouffe. "Also liability, so your insurance and previous experience and who's going to be piloting it.
"That's a certificate that I have to apply for every year," said LeCouffe. "You apply for a specific area on a specific date with a specific drone a few times until Transport Canada is comfortable with giving you what's called a blanket certificate. We have two blanket certificates now, one for the fixed wing and one for the quad copter. Within certain guidelines, we can fly wherever we want in B.C. for a full year. That includes controlled airspace, but there (are) limitations within that as well.
"Just yesterday I met up with Nav Canada at the Cranbrook Airport, because we might be flying within their airspace soon, so just to find out what their procedures are and how they want us to go about flying in their space."
In Canada, drones can't fly higher than 400 feet (122 metres), so the only manned craft they would encounter is a helicopter. Laws say they must always give way to a manned flight.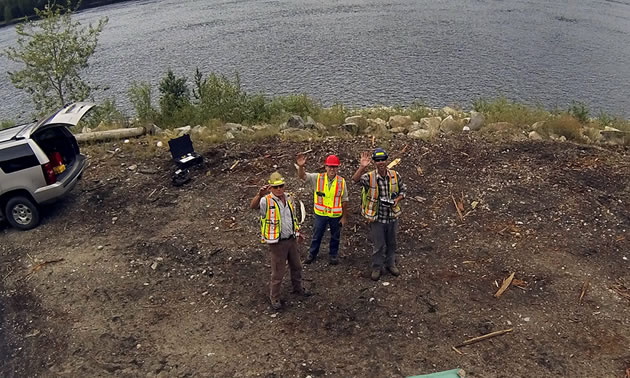 "If ever we're within controlled airspace," said LeCouffe, "then the airport will file what's called a Notice to Airmen, and then they'll say, 'Okay, in this area there's a UAV flying, so be careful.' "
It's a bird . . .
If birds ever take more than a passing interest, there are evasive maneuvers that drones can perform. LeCouffe can direct the drone to do a barrell roll, a steep climb or a steep dive.
"So far we haven't had an issue," said LeCouffe. "When I was first getting a demo in Calgary by the supplier, there was a hawk that was interested but never ended up coming too close. And speaking of birds, it looks like a bird up there—the black outline and everything. Once it's up there, it could just be another raven."