The coal connection
The Canadian Pacific railway and coal mines in the Elk Valley have been working together since 1970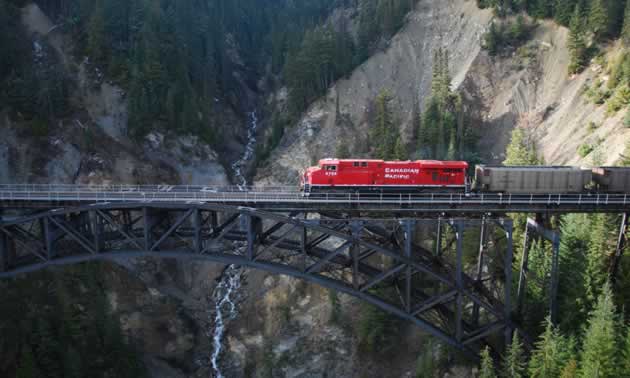 The Canadian Pacific (CP) railway plays a key role in the transportation of coal in Canada. According to the spring 2011 issue of Momentum—a publication by Canadian Pacific Communications and Public Affairs—Teck is the second largest producer of metallurgical coal in the world. More than 27-million metric tonnes of Teck's coal, mineral concentrates, raw materials and refined metals are moved on rail cars through Canada each year. Teck is CP's largest bulk customer and most of CP's coal business is generated from the five mines owned by Teck in the Elk Valley.
Innovative features
CP started hauling coking coal from the Elk Valley in April of 1970. Over the last 42 years, the company has introduced new innovations in rail service, such as robot technology.
"This was a new technology that CP pioneered and (the company was) the first railway to introduce such a design that would forever revolutionize CP's motive power practises," said Kevin Hrysak, who is CP's media relations manager for Canada. "This design concept allowed a locomotive to be placed elsewhere on a train other than (at) the head end, which could be 'robot-controlled' remotely by radio from the locomotive and engineer on the head end of the train."
Other improvements to CP's coal trains include the introduction of aluminum coal cars to replace steel coal cars, advancements to locomotive power and the installation of electronic-controlled performance brakes—which are designed to provide faster braking effectiveness, better fuel economy and other benefits.
In February of 1987, CP opened a coal car repair facility and locomotive servicing centre in Golden, B.C., to handle the maintenance and repair of coal trains.
According to Hrysak, CP is currently working on a two-year infrastructure program to expand key rail sidings along its coal route to accommodate longer trains and increase capacity.
Keeping it clean
After it has been mined and processed, the coal is loaded on CP rail cars at Fording River, Elkview, Line Creek and Greenhills, and departs for its destination from there.
"All the mines are equipped with what we refer to as railway loop track where the coal is loaded directly onto the rail cars of a coal train," explained Hrysak. "All rail cars loaded with coal are sprayed at each mine and then again en route to the Coast at our Tappen re-spray facility, which is the midpoint between the mines and the port."
The chemical sprayed on the coal is a glue-like polymer and Hrysak said that it acts as a crusting agent to keep the coal pack firm while in transport; it limits any potential of coal dust escaping as well.
In for the long haul
It takes a great deal of manpower to keep the coal trains in the Elk Valley and the rest of Canada running smoothly. Hrysak said CP currently has 350 employees in the Cranbrook, Nelson and Golden areas who are directly involved in the business of moving coal trains; however, he said, that number is much larger when the office staff and those who are involved between the mines and ports are factored in.
After 42 years of transporting coal from the Elk Valley, Hrysak said that CP will continue to work with Teck to support the company's future growth plans.