Nelson Landing Townhomes sales launch event a success
Touchstones Museum of Art and History was the venue for the Nelson Landing sales launch open house.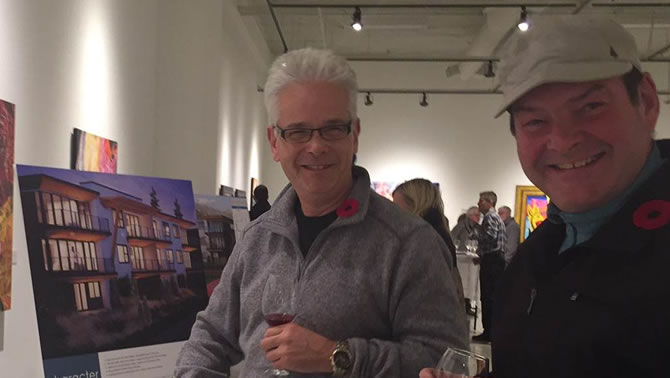 Nelson Landing held its much-anticipated sales launch open house for the sale of its first eight townhomes on the evening of Tuesday, November 10th at Touchstones Museum of Art and History in Nelson, BC. Artist renderings depicting stunning views of the north shore of Kootenay Lake from the townhomes were artfully arranged throughout the main gallery. The colourful work of artists John Hall and Alexandra Haeseker created a sumptuous backdrop.
Marketing & Sales Director Mark West from Epic Real Estate Solutions Inc. and Project Sponsor Allard Ockeloen with Storm Mountain Developments Inc. spoke to the more than thirty people in attendance. Both were excited to offer these eight unique townhomes after more than five years of work leading up to this moment. "We are so pleased to be with you tonight after five years of hard work to get to this point," said West, who expressed appreciation for "the steadfast people" who have been following the project since it began. "With room widths of 28 feet and expansive decks and patios, Nelson Landing homes will offer a bigger living experience than traditional town homes," noted Ockeleon.
Samples of actual flooring, counters and backsplash choices made the dream a reality. Interested onlooker Cathy Stoochnoff declared "the colour choices beautiful," and commented on the square, open plan concept; "We love it." Debbie Bird liked "the neutral colours" and the aspect of downsizing to a condo. Peter Lee's favourite part was the floor plan's "functional layout and the fact that each unit runs front to back."
Another interested party had this to say, "My favourite thing is that it's on the water and out of town. I really like the mixed development of commercial, shops and residential." Diana Dickieson liked "that the bottom floor units have undeveloped basement space," leaving options open for the home owner.
Ockeloen, West and the rest of the marketing team—Sally Carmichael and Theresa Clinton—answered questions as people checked out the eight floor plans depicted on the photoboards and perused the development's website.
For specific floor plan layouts and to view interior renderings, visit www.nelsonlanding.com or for more information call 1-866-679-3742 ext 201 or email [email protected].