Marysville Views lives up to the name
Spectacular views, wildlife at your doorstep, yet conveniently close to amenities—Marysville Views is the place to call home.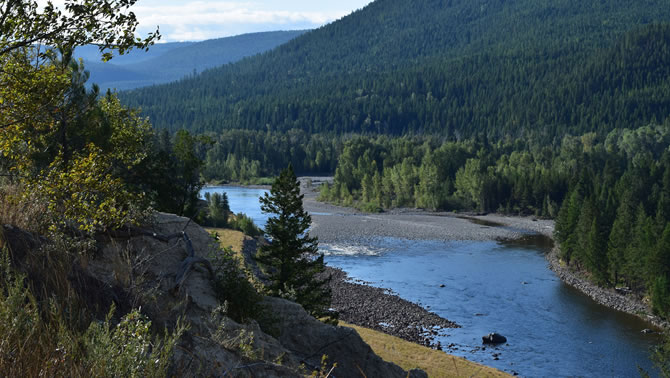 Born in Kimberley and raised in Marysville, Kevin Amy is proud to be the owner and developer of the new Marysville Views subdivision in Kimberley, B.C.
Located in Marysville along the escarpment of St. Mary's River (to the South) and Mark Creek (to the West), the subdivision boasts treed lots and breath­taking views of the Purcell mountains including Bootleg Gap to the west. Swing 180 degrees east and you'll see the Rocky Mountains and towering Fisher Peak. Wildlife including deer, bear and cougar have been known to traverse the property.
The James Ritchie Trail runs adjacent to the southern edge of Marysville Views. Once the City of Kimberley completes a pathway bridge across Mark Creek, Marysville Views will have a direct connection to the NorthStar Rails to Trails, part of the Trans Canada Trail pathway system, leading west to Gray Creek and Kootenay Lake.
Phase 1 of this eight-hectare mountain sub­division has 14 fully serviced lots connected to the City of Kimberley utility system—water, power and sewer. Each lot stretches 21 metres wide and 30 metres deep. Some lots are even larger and deeper. Each lot is dual-serviced to allow owners the option of building a duplex.
Leiman Homes currently has a duplex under­ construction, with half already sold. "It's a beautiful home—you can't really tell it's a duplex," said Amy. He also adds that prospective purchasers can bring whatever builder they choose.
Currently, seven of the 14 lots have sold. Residents are currently living in the first home built on site and construction is underway on two other homes. At Marysville Views, there is no commitment to build within a specified time frame.
Amy has retained Haworth Development Consulting as the design review co-ordinator to over­see home building plans, making sure they meet architectural controls set out for the neighbourhood. According to Amy, one key element of the home standards is to make sure roof heights do not block the view of other neighbours.
The streets are lit by LED lamps on black metal posts that focus the light directly down onto the street. This design reduces light pollution. Other community enhancements planned by Amy are a green and park space for social events and outings.
With scenic mountain vistas, pine forests, blue sky, clean air, wildlife and recreation 12 months a year, Marysville Views is a sweet place to call home.