Sun power for Kimberley
The Kimberley SunMine is among the pioneers in commercial solar energy production in Western Canada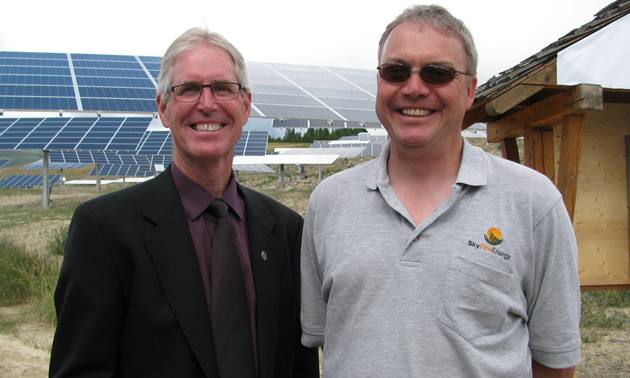 As the financial and environmental costs of energy rise, news of the construction and successful initial operation of the SunMine in Kimberley, B.C., is a bright ray of positivity.
The project is a big opportunity and a big responsibility for the City of Kimberley, a legacy community that owes its existence to the now-defunct Sullivan Mine and is now the 100 per cent owner of SunMine. Kimberley's mayor, Don McCormick, regards the project as a unique opportunity.
"Kimberley has contaminated land all around it," McCormick said. "If we hope to have any kind of industrial development strategy to bring a broader tax base to town now that the mine is gone, we have to get environmental certification for the land or find a way to use the brownfields in a more creative manner. SunMine is one of those creative manners.
"It's small at this point, at only one megawatt, but we're looking at eventual expansion to as much as 15 megawatts, so we'll require quite a bit more land, and the land is there and not usable for much else."
The SunMine is considered an infrastructure project that will not, in itself, provide employment. McCormick said that economic development from the SunMine revolves around attracting industry that needs clean power. That's the City's long-term strategy and that's where the potential lies for industrial development and employment.
SkyFire Energy of Calgary, Alberta, subcontracted to Conergy Canada to build the project, and Tim Schulhauser, president of SkyFire, explained that though somewhat expensive to build compared to, say, a natural gas plant, a solar power facility does not have an ongoing fuel cost, nor does it produce emissions. He said that the life of the SunMine components is expected to be about 25-plus years and that as a general rule, a solar installation pays for itself in 10 to 15 years. Once it's paid off, then the proceeds are profit, and that's attractive to investors.
Scott Summerville, CAO for the City of Kimberley, is happy and relieved now that the SunMine is up and running.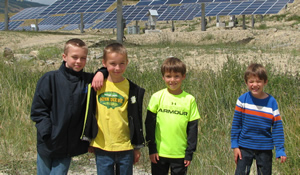 "I feel really good that we pulled off a successful project—it's probably the work thing that I'm most proud of accomplishing in my life," he said.
There's no time to wallow in satisfaction, though, because even before the project was finished, Summerville was fielding phone calls about expansion, future solar projects and mentorship. However, Summerville advocates proceeding with caution.
"We want to make sure that phase 1 is working well and we've learned what we need to learn before we embark on an expansion," he said. "As the numbers roll in every month, we watch them very carefully."
Inquiries have been coming in from potential investors and other communities, including the City of Nelson and the St. Mary's band.
"In fact," said Summerville, "the mayor and I have been asked to speak to the Lower Mainland Local Government Association in November. They want us to speak for 45 minutes about SunMine and how we did it. It's inspiring to me that we're inspiring other solar facilities. I'm excited that we're the pioneers; we're taking the risk out of it for people who want to learn from us."
There's a lot of pressure, though. As long as things go well, the Kimberley SunMine will be an inspiration to other communities. Should consistently adverse weather conditions or other negative factors come into play, the story of SunMine could be a cautionary tale putting the brakes on future commercial solar power endeavours.
In his happiest dreams, Summerville sees the southern slopes of B.C.'s mountains abundant with solar fields, producing clean, constantly replenished power for the municipalities below.
For a quick rundown of facts and figures about SunMine, read this Kootenay Business article.