Spirit Rock Climbing–to the peaks of youth-friendly business
The centre took home the Kimberley chamber's 2018 Youth Friendly Business Award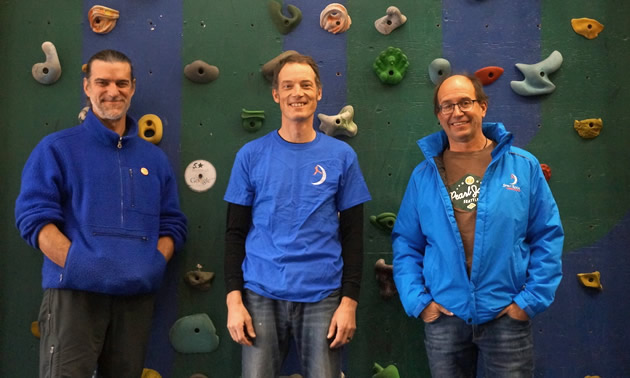 Ryan Tarves, Kevin Blades and James Gray are behind the recent award-winning way to climb in Kimberley, B.C. The trio were awarded the 2018 Youth Friendly Business Award from the Kimberley & District Chamber of Commerce this past October. It's easy to see why, when one considers Spirit Rock Climbing Center's involvement in the Kimberley community and its involvement with the area's youth.
The centre's climbing routes, equipment and atmosphere are crafted to offer climbers a perfect combination of safety and adventure. Spirit Rock is ready for any climber, any time, with its auto-belays, bouldering area and 6,000 square feet of roped climbing.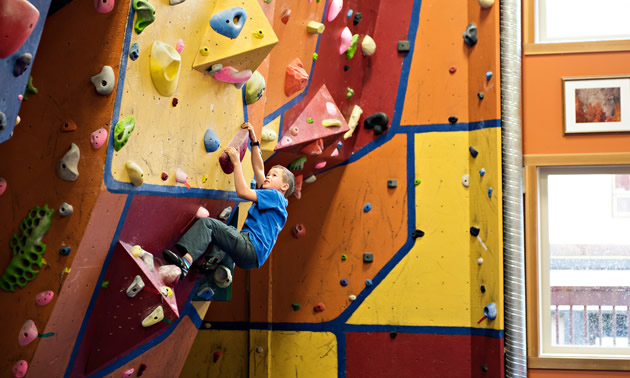 A place for youth to play
"It is a real honour to be recognized for this award," said Tarves. "This award affirms that youth enjoy our facility and that our youth programs are popular and successful. A lot of youth, both from our community and far beyond, have discovered climbing here and it has been a lot of fun sharing that with them! We give them the skills to climb and challenge themselves safely and it has been enthusiastically received."
There are several attributes that helped Spirit Rock reach this momentous peak. The ability for Kimberley residents and visitors to drop downtown any time and find a community centre with active, positive people in it is one. Climbers are able to recreationally climb with friends, make new friends, or reconnect with former students all at one convenient location.
"Our diverse customer base brings people together in all sorts of ways," Tarves said. "Our staff and volunteers range in age from a 14-year-old who teaches climbing twice a week to elementary school kids, to a fellow in his late 70s who also teaches and coaches regularly."
Spirit Rock has a wide variety of events and programs suited to the area's locals and visitors. Its weekly Spirit After School, Climbing Club and Climbing Team programs offer East Kootenay youth the chance to learn basic climbing skills and safety through a combination of top-rope belaying, auto-belays, bouldering and climbing games. The centre's goal is to create a positive and progressive climbing experience with lots of fun thrown in.
"Our popular Kid's Rock climbing day camps run during the summer and other holidays," Tarves said. "We have partnered with some of our neighbouring businesses and parks to include other activities for youth participating in these camps. We offer private and semi-private lessons, school groups, birthday parties, Film Night fundraisers and sometimes even concerts–with our 40-foot-high ceilings, it's a memorable venue!"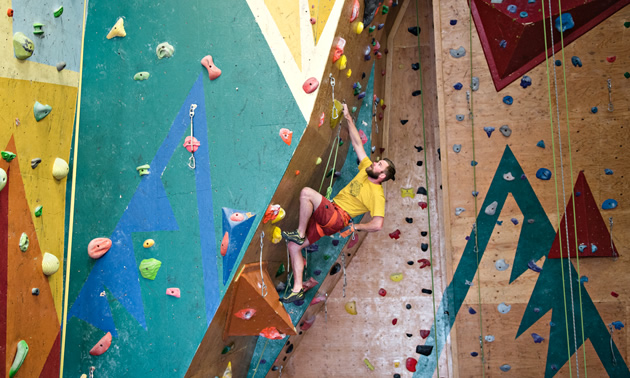 A growing climber community
The climbing scene has blossomed in the East Kootenay over the last five years. Tarves said that the opportunities to get out and do things have increased too due to the growing range of available activities in Kimberley (it might have something to do with the gorgeous terrain). The people taking part are friendly, active and open to new experiences.
Spirit Rock Climbing Center is in its fifth year. Tarves, Blades and Gray started out with the goal of creating a place where people could come to climb and just enjoy hanging out (literally and figuratively).
"We are still thrilled by the wide variety of people who come to Spirit Rock and grow into family and good friends," Tarves said. "We've done a lot of learning and growing as a company, as people, as partners and as staff but, man, is it rewarding. Here's to hoping that the trend continues into our next year.
"I'd like to say that climbing is a life sport, similar to skiing, biking or hiking, and it has been a real pleasure to be able to share it with our community," he said.
To learn more about Spirit Rock Climbing Center, visit the website or Facebook page.