Dynamiters invest in Kimberley
The Dynamiters appreciate Kimberley's support, and support the city right back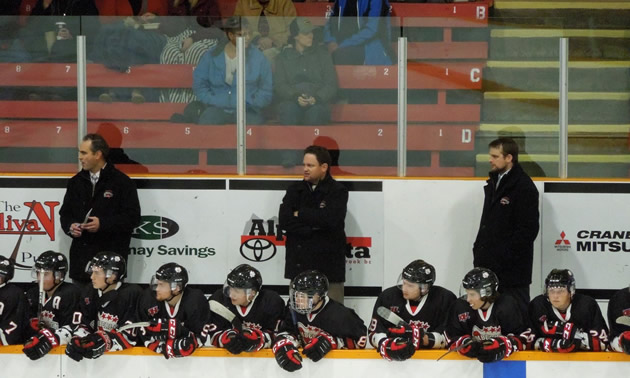 "This is my second year as GM and coach of the Kimberley Dynamiters," said Derek Stuart. "I played for Kimberley in the late '90s, my mom grew up here, and I have lots of relatives living here. My wife and I and our young daughter moved here from Okotoks, Alberta, in July 2016, and we love it."
Stuart talked about how much the team relies on and appreciates the community for its sponsorship and fan support. "We couldn't exist without that," he said. "It's what keeps us afloat and running. The board of directors for the Dynamiters are all volunteers and they do an outstanding job. They all care about the team and the community."
In the classroom and beyond
The Dynamiters have set up a reading program with the three elementary schools in Kimberley, reading with the students at each school twice a month and making a more personal connection with the kids.
"We've promised to send four players to every reading day," Stuart said, "and there are always six or seven who make themselves available—they certainly don't try to avoid it. Our captain decides who gets to go."
That reading commitment has spontaneously grown. Dynamiters sometimes stay to attend gym classes and play floor hockey with the students, and even hang out with them at recesses on their own time. Most of the team members are in high school or college, or they have jobs. Their commitments to the students get them out and about in the community, and the kids look up to them and see them as role models.
The players' involvement in the community includes participating in the schools' Terry Fox runs, voluntary trick-or-treating with the children of their billet families and supporting younger hockey players by helping out at the Minor Hockey team practices and attending their games.
Community muscle
Anyone who lives in Kimberley is likely aware of the "above and beyond" efforts that the Dynamiters willingly extend to the community. For example, last winter, for a period of two months or more during the worst of the snowfall, team members shovelled snow every day, all day, to help those who couldn't manage the job themselves.
"People phoned or texted me, asking for our help," Stuart said. "Last year, a few of the players independently put an ad on Kijiji for anyone that needed their help with snow removal, and they went out and shovelled for people who responded."
"They often voluntarily immerse themselves in the community stuff," Stuart said, "and when we ask them to do things with the community, they do it willingly and happily."
Aspiration and achievement
Many of the younger players have aspirations to move on to Junior A or the WHL or even higher, and Stuart and the coaching staff are trying to help them. "But it's not just about playing and winning hockey games," Stuart said. "The coaching staff is trying to instill values in them that will help them in life—things like respect, co-operation, responsibility and citizenship."
At least partly because the players are willing, hard-working and of good character to begin with, it appears the coaches' efforts are resoundingly successful.