Salmo's Contaminated Site under Remediation
Residents of Salmo and district have long been concerned about contamination from old mine tailings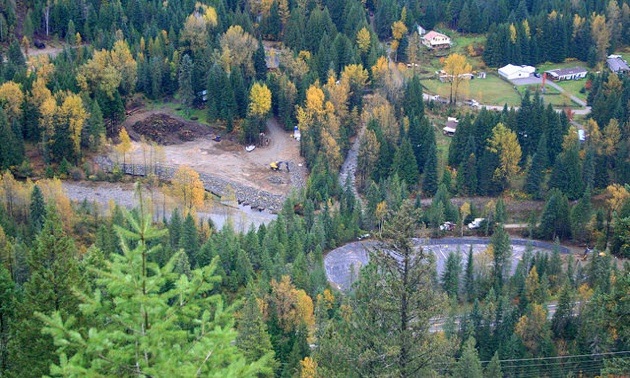 Residents of Salmo, B.C. and district have long been concerned about contamination from old mine tailings that stretches back to the early days of mining in the West Kootenay.
British Columbia has an active history of mining, manufacturing, forestry, agriculture and many other industrial activities. While development activities have built a modern and vibrant province, there have been some detrimental impacts to public lands.
Some historic industrial sites are contaminated with metals, acid rock drainage, hydrocarbons and other substances harmful to human and environmental health. These sites can become the responsibility of the Government of British Columbia if they are on publicly owned land.
To protect the public interest, the B.C. government has undertaken activities such as removing contaminated soils, diverting watercourses away from toxic materials, capping hazardous areas with natural or synthetic materials and replanting vegetation to create habitats for birds, animals, insects and fish.
Over the last decade, the Crown Contaminated Sites Program (CCSP) has coordinated and overseen rehabilitation of contaminated sites on lands that the government is responsible for.
Howard Mine in the West Kootenay is one such contaminated site, located about 30 kilometres south of Nelson. The mine produced gold, silver and lead during its operation from 1937 to 1938 as part of a mining history in the region that began in the mid-1800s.
The mine transported ore over a 7.5-kilometre aerial tramway to a processing mill at the confluence of the Salmo River and Porcupine Creek. The mill operation left behind many tonnes of mine tailings, much of which has since been washed away by the river.
Between 2009 and 2013, the CCSP commissioned a series of studies to assess the extent of the mine wastes and their potential risk to human health and the environment. The investigations showed that the mine wastes contained lead and other metals at concentrations that pose a potential risk. Groundwater and surface water in the Salmo River directly adjacent to the tailings deposit contained elevated concentrations of cadmium and zinc.
However, Porcupine Creek and the main channel of the Salmo River have not been affected by the mine wastes.
The results showed that management of the mine wastes was necessary. To determine the best approach, the CCSP analyzed a number of different management options in late 2012 and early 2013 and evaluated them against specific environmental, practical, social and cost criteria. A conceptual plan to manage the wastes was presented at an open house in August 2013, and local community members agreed with the recommended remedial option.
The CCSP recently established a list of qualified environmental waste management contractors and engineers and invited them to submit proposals to clean up the mine site. Remedial work started in the summer of 2014.
To date. this is the work completed or near completion: 1. Detailed investigations of potential hazards; 2. Review of available remediation options; 3. Regulatory consultation and authorizations; 4. Presentation and community acceptance of a conceptual remedial plan; 5. Selection of contractors to develop final engineering designs and carry out construction; 6. Remediation work currently in progress and expected to be largely completed in November 2014; and 7. Continued communications with the community.
Companies involved the in project include SNC-Lavalin, SRK Consulting, Quantum Murray Remediation, Masse Environmental Services, Sagebrush Nursery, Mountain Movers, and Beaver Valley Investments among others.
The CCSP Salmo project is nearing completion and should be wrapped up in the fourth quarter of 2014. As a result, Salmo residents are sure to rest easier now that the old Howard Mine contaminated site will be remediated.