Talking heads get together at UBCM convention
The Walrus magazine celebrates its 10th anniversary and hosts five speakers on the art of conversation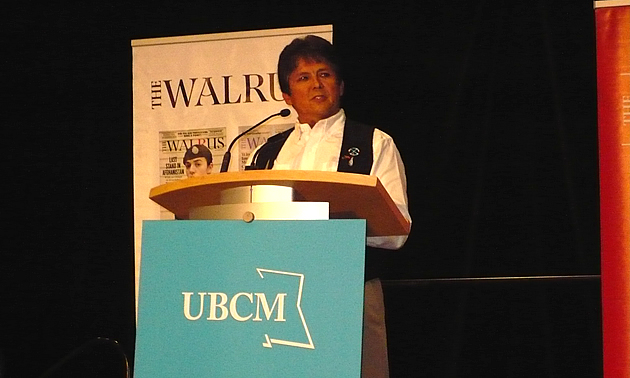 Five speakers. Seven minutes each.
That was the format for The Walrus Talks: The Art of Conversation, one of the events at the 2013 Union of B.C. Municipalities convention in Vancouver. The speakers were hosted by The Walrus, the Canadian general interest magazine that is celebrating its 10th anniversary this year, and sponsored by the Canadian Association of Petroleum Producers.
Here are some highlights from the five speeches.
Jim Hoggan: Empathy and the public square
Regarding discussion on climate change, Jim Hoggan asked, "Why isn't public discourse more data driven? Why do we shout at each other instead of discuss things based on scientific evidence?"
Hoggan, the author of three books, including his most recent, Polluted Public Square, said, "Just as you can pollute the natural environment, you can pollute public discourse."
He offered the example of the environmentalists versus the Alberta oilsands debate. When both sides make inflammatory statements, it tends to silence the conversation, he said.
"Canada's public square is polluted with toxic rhetroic," Hoggan said.
Quoting another author, Karen Armstrong, Hoggan said, "We must speak out against injustice, but not in a way that causes more hate."
Hoggan is the president and owner of Hoggan & Associates and a founder of the influential website, DeSmogBlog (named one of Time magazine's Best Blogs of 2011). He also serves as a trustee of the Dalai Lama Centre for Peace and Education, and recommended the Dalai Lama's suggestion that we could solve many problems by blending the Western mind and the Eastern heart.
Samantha Nutt: It's not you; it's them
"There is no such thing as a thinking horde," said Samantha Nutt, telling audience members to "be wary of ideological consensus."
"In this age of information, there is a lot of misinformation going about," she said
Nutt is the founder and executive director of War Child, a staff physician at Women's College Hospital in Toronto, and an assistant profssor at the University of Toronto.
She believes that "reasonable people are not being heard often enough" and warned that when someone starts a conversation with 'They say . . . ,' it is always a good idea to ask who exactly is 'they.'
She also noted that just because two things are correlated (for example, dental braces and puberty) doesn't mean that one causes the other.
Added Nutt: "Wikipedia is not 'da truth.' "
Nutt said that, in her experience, "The only way not to drown in nasty epithets is to just keep on swimming."
Clarence Louie: Difficult conversations
Clarence Louie, who has been elected no less than 14 times, is chief of the Osoyoos Indian Band, and said that the 200 First Nations communities in B.C. have had many '"difficult conversations."
Louie said that "it makes good business sense to include First Nations in the prosperity of this province." He said that the Osoyoos Indian Band has more Indian-owned businesses than any other band in the province, and will be the first band to have a provincial jail.
He said the latter decision resulted from a "difficult conversation," but that in the end, he saw "more pluses than minuses" in having a provincial jail on native land.
"Always start with the facts, which means starting with First Nations people," he said. Louie believes First Nations people should be called "rights-holders," not "stake-holders."
Louie said he also likes to abide by the Rotary club credo which asks, in part, "Is it true? Is it fair to all concerned?"
And, quoting from Martin Luther King, he added, "We cannot be only held responsible for what we say, we can also be held responsible for what we do not say."
Shauna Sylvester: From debate to dialogue
Shauna Sylvester, a fellow at Simon Fraser University's Centre for Dialogue, said she is a long-time activist, starting as a school girl when she lobbied for a gym and science lab in her private girl's school. Whether the cause was poverty, AIDS or women's rights, she said she became very good at "oppositional politics."
But she had a bit of an epiphany when she was involved in trying to get a group of editors from India and Pakistan to have a fruitful dialogue. The discussions became very tense, she said, until a Pakistani editor discovered he was related to an Indian editior and, suddenly, the tension was diffused.
Since then, Sylvester has leaned more towards dialogue than activism, and is currently very involved in Carbon Talks, which promotes the transition to a low-carbon economy.
"But will incremental changes address climate change?" she asked.
Sylvester concluded that "we have to look at what connects, not divides, us."
Michael Ingham: Faith and science
Michael Ingham was the bishop of the Diocese of New Westminster since 1994, retiring in in September 2013. He quoted from Jonathan Sacks, suggesting that "religion and science need to be partners, not enemies."
"Each discipline has to recognize the distinctiveness of each other," Ingham said. "Each (offers) a valid way of looking at the world. One deals in facts, the other in purpose and meaning."
Ingham mentioned Pope Francis's work with the poor as an example of social science and religion co-operating in searching for answers as to why the poor are poor, then doing something about it.
"It's not a choice between technocrats versus imams and prelates," he said. "The real choice is between co-operation and suspician."