Summer road safety: Safe driving tips for truck drivers
Collin Pitney, a professional truck driving instructor at the College of the Rockies, has been teaching for over 20 years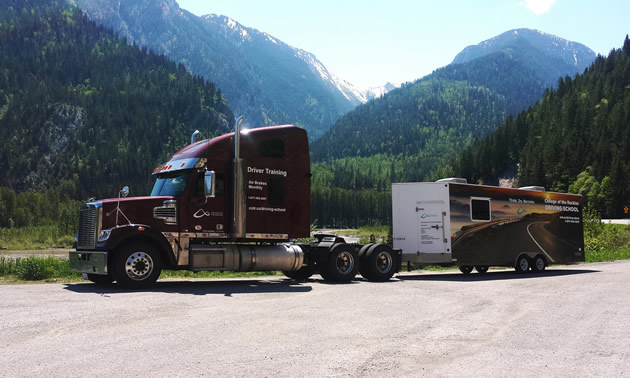 When we think of truck driving safety, we think of slippery winter months and winding mountain roads. We forget that those mountain roads can be just as dangerous in the summer.
Collin Pitney, a professional truck driving instructor at the College of the Rockies (COTR) in Cranbrook, B.C., has been instructing for over 20 years. He has worked with COTR on and off since the '90s. When he is not teaching at the college, his employers over the years have also recruited him to help train and retrain their employees. Clearly, Pitney values safety on the road.
All drivers sometimes need safety refreshers. Pitney doesn't just work with new drivers at COTR. "There is a lot of refreshment on safe driving practices including sharing the road, dealing with different road conditions and distracted driving," he said. "A lot of it is about taking your time, space and speed management, making drivers more aware, and not being in such a big hurry."
Challenges on the road are just as likely in the summer. Pitney gave a few tips for safe driving that apply year-round.
Tip 1: Slow down
Pitney's pet peeve on the road is drivers in a hurry. "It's about teaching people to slow down, and pay attention, so there's less chance for things to go bad," he said. "It seems like a lot of people are so worried about themselves that they don't worry about anyone else." This type of driving not only puts yourself at risk, but other drivers on the road. "They don't realize the impact they can cause between reactions."
In the summer, drivers are braver on the dry roads and more likely to increase their speed. Managing a slower speed, and allowing for more space between the truck and the car in front of you, eliminates stress and optimizes safety on the road.
Tip 2: Prepare for the extreme
Recently, COTR added a truck driving simulator to its practical studies. "There are a lot of things we can do with the simulator that you can't take on the road," Pitney said. Pitney can now simulate rare and difficult challenges to teach his students how to safely deal with these problems on the road. The simulator helps with emergency runouts, blowouts and bad weather, for example. Being properly trained in advance, and prepared for the extreme while out on the road, sets truck drivers up with the basics to arrive at their destination safely.
Tip 3: Don't get distracted
The COTR simulator allows Pitney to show his students the repercussions of distracted driving. Most commonly, he has students use the simulator while using their cellphones. The simulator experience is enough to ensure his students don't fall into distracted driving habits on the road.
This is a tip that all drivers can take to their own safe driving practices. If the fines aren't enough to scare you, the potentially life-threatening situations should be.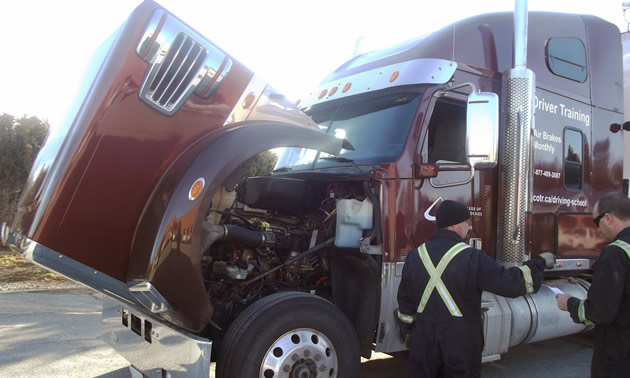 Mind the truck drivers
Even if truck drivers are highly trained, the public can make their job more difficult. "A lot of people think that we can stop and accelerate just as fast as everyone else, but it takes us a lot longer," Pitney said.
Accelerating and decelerating becomes a safety challenge at intersections, especially because other cars expect them to drive the same as a small car. "You can't follow closely because it takes longer to stop as well," he said. Minimize accidents by offering truck drivers ample time to speed up and slow down.
COTR truck driving school
Pitney's courses comprise 71 hours of training, including 20 hours dedicated to a mandatory air brakes course, and 51 hours split between truck practice and theory. "It takes a long time to become a professional," he said. "All we can do is give you good basics to start with."
COTR's Rocky Mountain location and the simulator allow him to teach more than other truck driving schools. However, he admits "it's challenging to teach everyone everything," Pitney said. He starts by showing students how different long-haul trucks are from common cars. The weight, brakes and proper way to control the vehicle are much different. Plus, there is the challenge of learning extra electronics.
These, along with safe driving practices, are the building blocks Pitney teaches his students so they can grow as professionals on their own.
Practice safe driving
The number one point that Pitney stresses throughout is appropriate speed management. "It would be nice if everybody could slow down," he said. "I think things would be a lot safer and less strenuous for everyone." This doesn't only apply to professional drivers. Everyone benefits from obeying the speed limits.