Flying high
Southern Interior Flight Centre offers a unique advantage when it comes to the practical part of getting your wings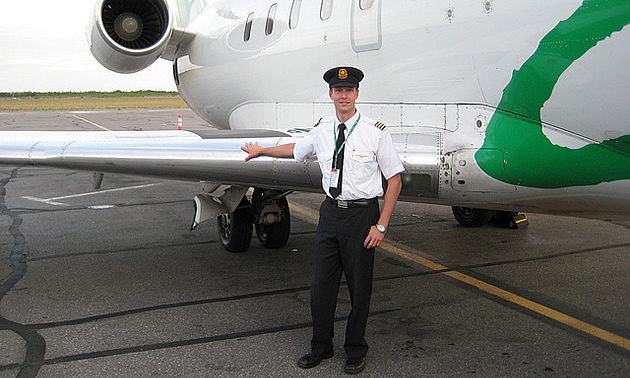 Dean Ticehurst is already living his dream as a pilot for one of Canada's major airlines.
"We work in an extremely safe, controlled environment with good people, and have a very fast-paced and dynamic job," said Ticehurst. "Destinations can be the same, but flights themselves never are."
Ticehurst graduated from his program at Southern Interior Flight Centre (SIFC) in 2006. One year later, after working as a flight instructor at the school, he moved to the charter division of SIFC/Carson Air, where he flew as a first officer on a high-performance turboprop.
"Being able to seamlessly make this progression throughout aviation from student to turboprop operator is unheard of anywhere in Canada," Ticehurst said. "(It's) not a testament to myself, just a fact—and the reasoning behind why I selected SIFC as my school of choice."
So what did make Ticehurst decide on this school?
"For work and school it was the same reason," he said. "Simply put, I would not be where I am nearly as quickly if SIFC didn't provide the opportunities it has. SIFC is a one-stop shop to provide schooling, entry-level job opportunities and career progression. To have all this and be located in Kelowna made it an easy decision."
Southern Interior Flight Centre presents a unique advantage to its students. Ticehurst said that the employment opportunities within the flight school are unparalleled in Canada. SIFC has the ability to hire graduates as instructors, and then let them progress upward through the company to operate freight and medevac aircraft. The school also has a strong working relationship with the other employers at the airport, and it assists students in finding part-time aviation employment even while they are in school.
In an industry that is notoriously difficult for gaining experience and employment, these kinds of opportunities cannot be overlooked. So, if you dream of taking to the skies, stop by and talk to the people at the Southern Interior Flight Centre booth. After all, Ticehurst offers a list of top benefits with his job that includes lots of time off and travel benefits.
One point, however, stands out.
"Did I mention we fly airplanes?" he asked. "It's almost as much fun as most people think it is."
Resource: www.flysifc.ca